Alex Zane presents The Best of Rude Tube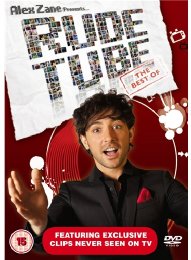 Certificate: 15
Running Time: 158 Mins
Retail Price: £11.99
Release Date: 21/11/2011
Content Type: Movie
Synopsis:
At last! The Best Of Rude Tube is brought together on this fun-filled DVD special, featuring over 100 of the world's favourite internet videos.

Join Rude Tube's Alex Zane as he shares his favourite animal antics, freaky skills, total fails, cyber celebrities and mind-boggling pranks & stunts in 150 minutes of non-stop LOL entertainment. The Best of Rude Tube is also packed with added features: exclusive clips never seen on TV, extended interviews with the stars and even an extra bonus section dedicated solely to OMG Cats.

So why spend hours trawling the internet looking for the funny stuff when the best of the best is right here and ready for viewing over and over again? Remember Mishka the Talking Dog, Geordie Pants Man, Hot For Words, Cat vs Printer, The Real Kung Fu Panda, Double Rainbow, Darth Vader TomTom, Big Ass Storage, Dude Perfect, Ultimate Nut Shot, Bieber's Biggest Fan and Angry Grandpa?

Well they're all here along with many more accidental comic geniuses of the World Wide Web. So log out, shut down, sit back, press play and let the laughter begin.
Special Features:
O.M.G Cats!
Featurette
Crew Commentary
Photo Gallery

Related Websites:
http://www.acornmediauk.com/index.php/homepage/rude-tube.html#