Adam Hills : Inflatable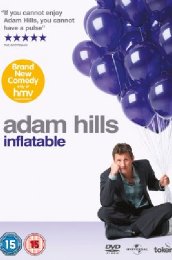 Exclusively available from HMV
Certificate:
Running Time:
Retail Price:
Release Date: 31/10/2011
Content Type: Movie
Synopsis:
Australian stand up king, Adam Hills celebrates his 21st year in stand up comedy, and his 40th birthday live on stage at Melbourne's Athenaeum Theatre, with a special performance of his critically acclaimed show. This unique one of a kind comedy show also features an onstage sign interpreter for the deaf and hard of hearing throughout the entire performance. 

 "Inflatable" is a raucous, poignant and ultimately uplifting show that received five star reviews from Melbourne to Edinburgh, and played to sold out audiences across the UK. Adam discusses the intricacies of sign language, the politeness of the Dutch, prostate awareness, what it feels like to have an "old man rant" and the joy of seeing the Paralympics live.  

Of course, no Adam Hills show is complete without including members of the audience, so you'll see an impromptu Boy Band performance, a sexy toy goody bag and much more. Let Adam Hills inflate you with this riotous live show. Joyous, uplifting - Inflatable.

 Three times nominated for the prestigious Perrier Award, Adam's solo shows are established highlights at the Adelaide Fringe, the Melbourne Comedy Festival, and the Edinburgh Fringe, where he regularly sells over 10,000 tickets in the month. He has been awarded Australia's Helpman Award for Best Comedy Performance, and has received the Best of the Fest, and Forth Fringe Award from Edinburgh Fringe critics.
Special Features:
Extra footage from the show