The Adventures Of Mark Twain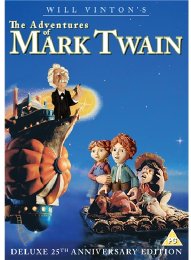 Certificate: PG
Running Time: 86 Mins
Retail Price: £16.34
Release Date: 31/10/2011
Content Type: Movie
Synopsis:
The Adventures Of Mark Twain is an amazing journey of imagination, humour and heart, and a must for fans of Aardman Studios.

The film features a series of vignettes extracted from several of Mark Twain's works, built around a plot that features Twain's attempts to keep his "appointment" with Halley's Comet. Tom Sawyer, Becky Thatcher, and Huck Finn stow away with Mark Twain on an incredible journey in Twain's airship.

The journey introduces the three friends to a variety of the author's characters from; The Diary of Adam and Eve, Huckleberry Finn, The Mysterious Stranger, The Famous Jumping Frog of Caliverous County and Captain Stormfield's Visit to Heaven. The sequence based on The Mysterious Stranger reportedly received over ten million views upon being posted on YouTube. The sequence was allegedly banned from TV due to its "disturbing content"
Special Features:
Commentary and interviews by Producer/Director Will Vinton and members of the cast and crew
The History of Claymation, a 25 minute doc, the origins of stop-motion, Claymation and 3D animation
The Amazing World of Claymation Tour of the popular exhibit hosted by Will Vinton
Behind the Scenes Video Clips and video news stories from ...Mark Twain's initial release
The Art of ...Mark Twain - a gallery of original concept art of characters and sets in pencil and paint
Trailer

Video Tracks:
1.85:1 OAR / Colour

Audio Tracks:
English 2.0

Subtitle Tracks:
English SDH

Directed By:
Will Vinton

Written By:
Mark Twain
Susan Shadburne (Screenplay)

Starring:
James Whitmore
Michele Mariana
Gary Krug
Chris Ritchie
John Morrison
Carol Edelman
Dal McKennon
Herb Smith
Marley Stone
Wilbur Vincent
Wally Newman
Tim Conner
Todd Tolces
Billy Scream
Bob Griggs

Music From:
Billy Scream

Editor:
Kelley Baker
Michael Gall
Ed Geis
Skeets McGrew
Will Vinton

Visual Effects:
Gary McRobert

Distributor:
Eureka