McBain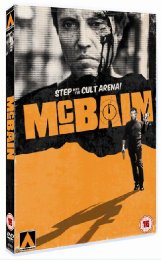 An ordinary steel worker with an extraordinary past.
Certificate: 15
Running Time:
Retail Price:
Release Date:
Content Type: Movie
Synopsis:
Written and directed by James Glickenhaus (The Exterminator), McBain stars Christopher Walken (Domino; Pulp Fiction; The Deer Hunter) as the eponymous hero, an ordinary steel worker with an extraordinary past.

Eighteen years ago, in the sweltering heat of the Vietnamese jungle, Robert McBain was a prisoner of war. Rescued by a future Columbian rebel, he is held to a sacred vow, sworn over a torn $100 bill.

Now, McBain must help to liberate Central America and decimate its evil drug trade by bringing together his old comrades from 'Nam. Together with the downtrodden peasants of Columbia, it's up to them to crush the military junta, bring down El Presidente and give the country back to the people while blowing up as many tanks, planes and people as possible.

From the director of such video store exploitation action classics as "The Exterminator" and "Shakedown", and co-starring Michael Ironside (X-Men: First Class; Smallville) and Maria Conchita Alonso (Predator 2; The Running Man), McBain ticks every macho box in the guns 'n' glory movie guide and delivers a body count that even Rambo would be proud of.
Special Features:


Directed By:
James Glickenhaus

Written By:
James Glickenhaus

Starring:
Michael Ironside
Maria Conchita Alonso
Christopher Walken