Rogue Ninja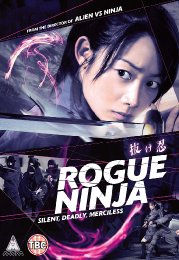 Silent, deadly, merciless
Certificate: 18
Running Time: 70 mins
Retail Price: £15.99
Release Date: 2011
Content Type: Movie
Synopsis:
Directed by Seiji Chiba (Alien Vs. Ninja; Evil Ninja) and starring up-and-coming Japanese action heroine Mika Hijii (Alien Vs. Ninja), the action-packed, period-set martial arts adventure Rogue Ninja delivers bone crunching thrills aplenty with a classic tale of comradeship, loyalty and betrayal.

The time is the 16th Century and the whole of Japan is wracked by civil war. The Iga ninja, fated to be demolished by Nobunaga Oda, the greatest warlord of the time, have put their people under severe and harsh restrictions, with the upper echelons of the ninja brotherhood ruling their charges with an iron fist. Even the slightest and most minor of infractions can result in a death sentence for members of the lesser ninja, even those few women who number amongst their ranks.

One such female ninja is Ukagami (Hijii), a stunning yet formidable warrior, who is sentenced to death by her evil ninja peers when she disobeys her elders and leaves the secret order to track down a kidnapped childhood friend. While on the run, she forges a savage and crimson path of bloodshed that will ultimately lead either to salvation or damnation.

Amidst scenes of dazzling, limb-severing swordplay and brilliantly choreographed martial arts combat sequences, Mika Hijii shines as the brave heroine whose courage to rise up against her male superiors takes her on an adventurous journey towards independence and glory.
Special Features:


Video Tracks:
1.85:1 anamorphic widescreen

Audio Tracks:
Dolby Digital 2.0 Stereo Japanese

Subtitle Tracks:
English

Directed By:
Seiji Chiba

Starring:
Mia Hijii