Strauss, R: Elektra (Thielemann)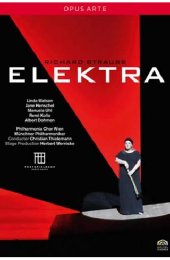 Recorded live in Jan/Feb, 2010
Certificate: N/A
Running Time: c.126 mins
Retail Price: £24.99
Release Date: 01/11/2010
Content Type: Musical Recording
Synopsis:
The richness and intensity of Richard Stauss's masterful one-act opera. in herbert Wernicke's compelling production, vividly portrays the relentless pursuit and ecstatic realisation of vengeance.

Linda Watson, as a merciless Elektra, joins Jane Henschel as Klytämnestra and Manuela Uhl as Chrysothemis to head a magnificent cast which see commanding performances also from Albert Dohman and René Kollo.

The Munich Philharmonic, under the direction of Christian Thielemann, brilliantly captures the score's demands for overwhelming power and finely balanced delicacy throughout.
Special Features:
Making of....
Cast Gallery

Related Websites:
http://www.bayerische.staatsoper.de/866-ZG9tPWRvbTEmbD1lbg-~Staatsoper~bso_aktuell~aktuelles.html
http://www.opusarte.com/en/

External Reviews:
http://www.musicalpointers.co.uk/reviews/cddvd10/StraussElektraOpArte.html

Video Tracks:
NTSC 16:9 Anamorphic

Audio Tracks:
DTS
LPCM Stereo

Subtitle Tracks:
English
French
German
Spanish