Chiller: The Complete Series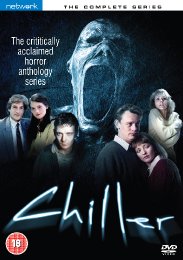 (Web Exclusive Release)
Certificate: 18
Running Time: 250mins
Retail Price:
Release Date: 28/02/11
Content Type: TV Series
Synopsis:
With John Simm, Martin Clunes, Phyllis Logan, Sophie Ward, Nigel Havers and Kevin McNally featuring among its combined casts, and novelists and screenwriters Anthony Horowitz (Foyle's War) and Stephen Gallagher (Bugs, Murder Rooms) among the writers, this acclaimed five-part contemporary horror/fantasy anthology could not be anything other than compelling viewing. Chiller also features the direction and production talents of Lawrence Gordon Clark - best known for his direction of the BBC's classic Ghost Story for Christmas thread during the early
1970s. This set contains the complete series, originally screened in 1995.

Episodes Include:
PROPHECY
A woman takes part in a séance with some friends. Five years later, disaster begins to overtake them. Can she discover the source of the destructive power?

TOBY
A pregnant woman loses her unborn child in a car crash. On becoming pregnant again, she is convinced that she is haunted by his malignant spirit.

MIRROR MAN
A young homeless man is compelled by a mysterious friend to murder the elderly social worker who is trying to help him.

THE MAN WHO DIDN'T BELIEVE IN GHOSTS
A writer who regards the supernatural with cynicism moves into a supposedly haunted house. He sets out to prove ghosts do not exist.

NUMBER SIX
In Helsby, a small Yorkshire town, police are desperately searching for the child killer who strikes at full moon.
Special Features:


Related Websites:
http://www.networkdvd.net/index.php

Video Tracks:
1.33:1 / Colour

Audio Tracks:
English Mono

Subtitle Tracks:
None

Directed By:
Lawrence Gordon Clark
Bill Mahoney

Written By:
Stephen Gallagher
Anthony Horowitz

Starring:
Martin Clunes
Nigel Havers
Phyllis Logan
Kevin McNally
Sophie Ward
Barbara Ewing

Casting By:
Susie Parriss
Paddy Stern

Soundtrack By:
Colin Towns

Director of Photography:
Alan Pyrah

Editor:
Tim Ritson
Clive Trist

Costume Designer:
Brian Castle
Val Hurst

Production Designer:
Mike Long
Robert Scott

Producer:
Lawrence Gordon Clark
David Reynolds
Peter Lover

Distributor:
ITV