Blackadder 3 (UK)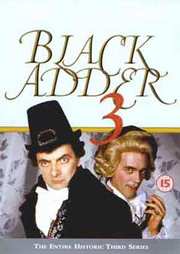 Six more brilliantly funny instalments from the annals of the Blackadder family
Certificate: 15
Running Time: 176 mins
Retail Price: £19.99
Release Date:
Content Type: TV Series
Synopsis:
Written by Richard Curtis and Ben Elton, and starring Rowan Atkinson, Tony Robinson and Hugh Laurie.

England, 1760-1815. Six more brilliantly funny instalments from the annals of the Blackadder family, whose fortunes have rather plummeted with the advent of the Regency period. Edmund Blackadder, butler to the Prince Regent, veers from calamity to disaster with very little in the way of constructive help from his imbecilic Lord and master and Baldrick, of whom the least said the better!

Dish And Dishonesty
Blackadder takes on the task of saving his master from bankruptcy. Unfortunately attempts at interfering in the democratic process don`t quite go according to plan as Baldrick is accidentally elevated to the House of Lords.

Ink And Incapability
When "thick as a whale omelette" Prince George is approached by Doctor Johnson with a view to patronsing his new dictionary, Blackadder is unimpressed. But as Johnson`s enthusiasm for a novel by a certain "Gertrude Perkins" becomes clear, the royal butler`s attitude changes.

Nob And Nobility
WiTh Francophilia and Scarlet Pimpernalia sweeping England following the French Revolution, Blackadder`s intense dislike for anything Gallic seems somewhat out of place. But the lure of pecunoiary advantage can do strange things to a man`s principles. Meanwhile the Price Regent has terrible trouble getting his trousers on.

Sense And Senility
With anarchists lurking everywhere, Blackadder suggests that his master makes a speech sympathetic to the proletariat and hires to actors to give Prince George some oratorial training.

Amy And Amiability
Penury stalks the corridors of The Royal Palace, and the only answer is a marriage of financial convenience for the Prince Regent. Unfortunately that idea backfires and Blackadder is forced into a highway`s life with baldrick as his trusty steed.

Duel And Duality
After a night of debauchery with the Duke of Wellington`s two nieces, the Prince Regent is challenged to a duel by the big-nosed general. During a momentary lapse into semi-coherence, Baldrick thinks of a plan.
Special Features:
Interactive Menus
Scene Access

Video Tracks:
Standard 1.33:1

Audio Tracks:
Dolby Digital Stereo 2.0 English

Directed By:
Mandie Fletcher

Written By:
Ben Elton
Richard Curtis

Starring:
Helen Atkinson-Wood
Hugh Laurie
Tony Robinson
Rowan Atkinson

Soundtrack By:
Howard Goodall

Director of Photography:
Anthony C. Thorpe

Producer:
John Lloyd

Distributor:
BBC