Sengoku Basara: Samurai Kings - The Complete 1st Season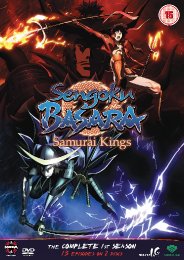 The anime adaptation of the hit videogame series
Certificate: 15
Running Time: 296 mins
Retail Price: £24.99
Release Date: 2010
Content Type: TV Series
Synopsis:
Welcome to the burning battlefields of feudal Japan, where rival warlords hack and slash their way to total domination. Each conqueror commands a horde of relentless warriors and wields a special attack weapon that boosts his powers of devastation as the endless struggle for power continues. But when a supreme evil in the form of the Demon Lord Oda Nobunaga threatens the land, the warring generals agree to unite to launch a combined campaign of annihilation against him by building an 'army of armies' to fight against their common enemy.

Among those who form an unlikely alliance are Sanada Yukimura and Date Masamune, two young warriors and bitter rivals from opposing regions who eventually put their differences aside in order to take on the deadliest of foes.

As the battle rages, gun-toting, mechanized samurai and mystical ninja go head-to-head in a devastating series of conflicts that brings the horrors of hell to earth.
Special Features:
New Anime "Sengoku Basara Chosokabe Motochika-kun and Mori-kun"
Textless Opening & Closing Song
Trailer for Sengoku Basara: Samurai Heroes Videogame

Video Tracks:
1.78:1 anamorphic widescreen

Audio Tracks:
Dolby Digital 5.1 Surround English
Dolby Digital 2.0 Stereo Japanese

Subtitle Tracks:
English

Directed By:
Itsuro Kawasaki

Written By:
Yasuyuki Muto

Starring:
Kazuya Nakai
Norio Wakamoto
Souichiro Hoshi
Hiroki Shimowada
Kouji Tsujitani
Mamiko Noto
Natsuko Kuwatani
Romi Park
Sho Hayami
Takehito Koyasu
Tesshô Genda
John Swasey
Johnny Yong Bosch
Robert McCollum
Chris Ayres
Christopher Bevins
Greg Ayres
Laura Bailey
Liam O'Brien
Maxey Whitehead
Michael Sinterniklaas
Stephanie Sheh

Music From:
Hiroyuki Sawano

Director of Photography:
Naoyuki Ohba

Editor:
Daisuke Imai

Producer:
Fumi Teranishi
Keiichi Nozaki
Kozue Kananiwa
Takeshi Wada
Tetsuya Kinoshita
Toshihiro Maeda
Yoshihiro Iwasa
Yukio Yoshimura

Distributor:
Manga Entertainment