Compulsion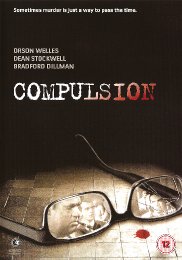 Sometimes Murder is Just a Way to Pass the Time
Certificate: 12
Running Time: 99
Retail Price: £15.99
Release Date: 20/09/2010
Content Type: Movie
Synopsis:
Compulsion is a compelling, stylish thriller that sees two callous law students murder a young boy in cold blood to prove their intellectual superiority.

Having been raised by wealthy, snobbish families Artie Straus is a sadistic bully and Judd Steiner a timid introvert. The two college friends concoct the "perfect crime" the murder of a young boy, but their arrogance and conceit leads to their arrest. The inimitable Orson Welles plays the criminal defense lawyer, based on the famous Clarence Darrow, who takes on their almost impossible case.

This outstanding courtroom drama directed by Richard Fleischer is based on the notorious and horrific 1924 murder trial of thrill-killers Leopold and Loeb. It was nominated for a BAFTA and garnered the Cannes Film Festival Best Actor Award for Stockwell, Diliman and Welles as well as a Palme d'Or nomination.
Special Features:
None

Video Tracks:
Anamorphic widescreen 2.35:1

Audio Tracks:
Dolby Digital 2.0 Mono English

Directed By:
Richard Fleischer

Written By:
Richard Murphy
Meyer Levin

Starring:
Orson Welles
Diane Varsi
Dean Stockwell
Bradford Dillman
E.G. Marshall
Martin Milner
Richard Anderson

Soundtrack By:
Lionel Newman

Director of Photography:
William C. Mellor

Editor:
William Reynolds

Costume Designer:
Adele Palmer

Producer:
Richard D. Zanuck

Distributor:
Second Sight