Robot Chicken Season Four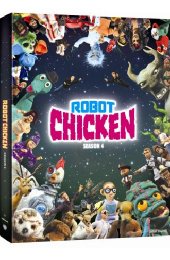 Certificate: 15
Running Time:
Retail Price: £19.99
Release Date: 30/08/2010
Content Type: TV Series
Synopsis:
Who's up for some tasty little nuggets of Emmy-nominated stop-motion sketch comedy? Why... YOU are! For instance: Dick Cheney dons the Iron Man armour! Star Trek II gets boiled down into a two-minute opera! And Tila Tequila's sexy secrets - like the one where she's a murderous android - are revealed! So get ready to watch a season's worth of insanity!
Special Features:
Chicken Nuggets
San Diego Comic-Con Panel
Day in the Life
New York Comic-Con Panel
Video Blogs
Australia Visit
Alternate Audio
Deleted Scenes and Deleted Animations
Commentary on all 20 episodes.

Related Websites:
http://www.adultswim.co.uk/shows/robot-chicken
http://www.revolvergroup.com/uk/dvd-bluray/view/robot_chicken_season_4

Starring:
Seth Green, Seth Macfarlane,

Distributor:
Revolver Entertainment