Cat Stevens: Bio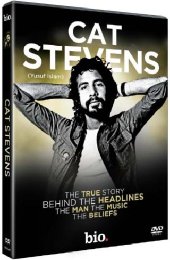 Certificate: E
Running Time: 44 Mins
Retail Price: £12.99
Release Date: 23/08/2010
Content Type: Musical Recording
Synopsis:
Going behind the controversy: The fascinating true story of a legend.

Cat Stevens is a folk legend, but his religious and political views have left many puzzled. After leaving the music scene in 1977, he has recently returned to spread his message of peace. Learn about his conversion to Islam and the furor that his political views has caused.

A folk music superstar, his songs "Wild World", "Peace Train" and "Morning Has Broken" are modern classics. In 1980, it was widely reported that he supported the Ayatollah's call for the death of Salman Rusdie (The Satanic Verses). In the eyes of many fans, this appeared to be stark contrast to his musical message of peace and love. His conversion to Islam and hiatus from the music industry in 1977 left many confused. Take a look inside the life of this often misunderstood artist. As he attempts to make others understand his faith, he has met with more controversy and further criticism. Can the artist once known as Cat Stevens spread his joyful message again?
Special Features:


Related Websites:
http://www.biography.com/articles/Cat-Stevens-16548027

Distributor:
History Channel