Kamui: The Lone Ninja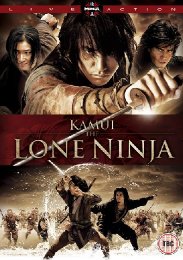 Live Through It!
Certificate: 15
Running Time: 115 mins
Retail Price: £15.99
Release Date: 2010
Content Type: Movie
Synopsis:
It is 17th century Japan and Kamui is a fugitive Ninja on the run. He despises the lethal laws of the Ninja where he must use his skills to kill others, and is in search for true freedom.

However, he is now hunted by his fellow ninjas as they must eliminate him for his betrayal. In order to live, he must constantly fight for his life and distrust others. An incident brings him to a fisherman's family, where he finally starts to open up to other people. Meanwhile, those hunting him are setting their trap.

Kamui is a 2009 live-action movie directed by Yoichi Sai. It is based on a manga series by Sanpei Shirato from the '60s and '80s in which a fugitive ninja escapes his clan only to be hunted relentlessly by former colleagues who now consider him a worthless traitor.
Special Features:
Press Conference of Upcoming Film 'Kamui'
Premier Screening
Special Event at Roppongi
"Cine Festa Shinjuku" Red Carpet
"Cine Festa Shinjuku" Cast & Crew Greetings
Trailer
Teaser Trailer

Video Tracks:
1.85:1 anamorphic widescreen

Audio Tracks:
Dolby Digital 5.1 Surround Japanese
Dolby Digital 2.0 Stereo Japanese

Subtitle Tracks:
English

Directed By:
Yoichi Sai

Written By:
Yoichi Sai
Sampei Shirato
Kankurô Kudô

Starring:
Ken'ichi Matsuyama
Koyuki
Kaoru Kobayashi
Kôichi Satô
Hideaki Ito
Sei Ashina
Ekin Cheng
Yuta Kanai
Suzuka Ohgo

Music From:
Tarô Iwashiro

Director of Photography:
Tomoo Ezaki
Junichi Fujisawa

Editor:
Isao Kawase

Production Designer:
Tsutomu Imamura

Producer:
Akira Morishige
Yui Tamae

Executive Producer:
Nozomu Enoki
Naoya Kinoshita

Distributor:
Manga Entertainment