Chimera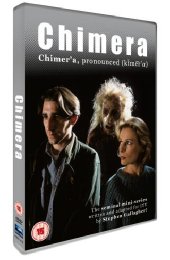 They made him... they raised him... then he came out to play!
Certificate: 15
Running Time: 3 hrs 21 min
Retail Price: 12.99
Release Date: 5th July
Content Type: Movie
Synopsis:
The eagerly-awaited prophetic thriller, written and adapted for television by leading science-fiction author Stephen Gallagher and directed by Lawrence Gordon Clark (Harry's Game), comes to DVD in its original, uncut format, almost two decades after it was first broadcast.

Fertility research centre, The Jenner Clinic, has been destroyed in an explosion and the entire staff wiped out by someone or something of superhuman strength.

Journalist Peter Carson (John Lynch - Sliding Doors, Hardware) fears his girlfriend, Nurse Tracy Pickford, is one of the victims. As he begins to investigate the tragedy, he is drawn into a nightmare of secrecy, violence and hostility as the Government seeks to hide the truth about the clinic's work, determined that nothing will stand in the way of scientific progress.
Special Features:
18-minute interview with author and screenwriter Stephen Gallagher

30-minutes of behind-the-scenes footage

image gallery

25-page press kit

107-page radio dramatisation.

Directed By:
Lawrence Gordon Clark

Written By:
Stephen Gallagher

Starring:
John Lynch
Christine Kavanagh
Kenneth Cranham
George Costigan
Pip Torrens

Casting By:
Sheila Trezise

Soundtrack By:
Nigel Hess

Director of Photography:
Ken Westbury

Editor:
Alan Pattillo

Costume Designer:
Derek Hyde

Production Designer:
Chris Edwards

Executive Producer:
Nick Gillott

Distributor:
Revelation Films