Blood on Satan's Claw: Digitally Remastered Widescreen Edition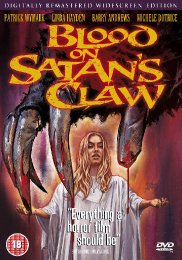 A living nightmare of black magic... and unspeakable evil!
Certificate: 18
Running Time: 92
Retail Price: £14.99
Release Date: 22/03/2010
Content Type: Movie
Synopsis:
A creepy horror film, set in 17th-century England. Chaos strikes a small village after a farmer discovers the remains of a demon that had been buried under the ground. The creature's claw has supernatural powers and takes control of the minds of various members of the community. The young people who are possessed soon start sacrificing their neighbours to the monster. Will anybody be able to break the spell of the fiend once and for all.
Special Features:
- Liner notes
- Stills gallery
- Theatrical trailer

Video Tracks:
Anamorphic Widescreen 1.85:1

Audio Tracks:
Dolby Digital 5.1 Surround English
Original Mono English

Directed By:
Piers Haggard

Written By:
Robert Wynne-Simmons

Starring:
Patrick Wymark
Linda Hayden
Barry Andrews
Michele Dotrice
James Hayter
Anthony Ainley
Howard Goorney
Avice Landone
Charlotte Mitchell
Wendy Padbury
Tamara Ustinov
Simon Williams
Robin Davies

Casting By:
Weston Drury Jr.

Soundtrack By:
Marc Wilkinson

Director of Photography:
Dick Bush

Editor:
Richard Best

Producer:
Peter L. Andrews
Malcolm B. Heyworth

Executive Producer:
Tony Tenser

Distributor:
Odeon Entertainment