Hard Revenge Milly - Bloody Battle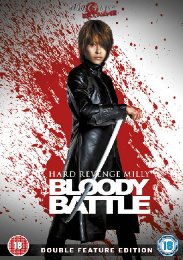 Two films on one disc
Certificate: 18
Running Time: 44 and 72 mins
Retail Price: £17.99
Release Date: 2010
Content Type: Movie
Synopsis:
Hard Revenge Milly

In a near-future, post-apocalyptic Japan, Tokyo has become a wind swept desert while Yokahama City has been taken over by gangs of vicious criminals, the worst among them being the notorious 'Jack Brothers'. Butchered and left for dead by Jack and his gang after being tortured and forced to witness the murder of her husband and infant child, Milly (Miki Mizuno) awakes in a deserted hospital to find herself miraculously alive and now in possession of a partly mechanized body. With nothing left to live for and driven only by revenge, Milly vows to hunt down the killers and to settle the score. First learning the art of sword combat from a master swordsman, she eventually embarks on a journey that can only lead her to straight to Hell.

Hard Revenge Milly: Bloody Battle

Having tracked down and confronted the Jack Brothers, Milly is approached by a beautiful girl named Haru (Nao Nagazawa) who asks her to help find and kill the person responsible for murdering her boyfriend. Initially reluctant to become involved in any more bloodshed, Milly recognizes and identifies with Haru's passion for vengeance and agrees to train her so she may exact her own revenge. But no sooner have they begun than they are accosted by a gang of Jack's sycophants who want Milly dead once and for all. Led by a cyborg-armed psychopath named Ikki, they prove not only to be a match for Milly and Haru, they are also found to be in possession of a secret that could drive a deadly stake between the two women.

Boasting incredible, over-the-top special makeup effects by the Japanese king of gore, Yoshihiro Nishimura (the man responsible for the breathtaking effects seen in 'RoboGeisha', 'Vampire Girl vs. Frankenstein', 'Samurai Princess', 'The Machine Girl' and Tokyo Gore Police'), superbly choreographed sword and fist fight sequences and introducing a hot new female action star in the form Miki Mizuno, the Hard Revenge Milly movies are a definite must-see experience for extreme splatter fans everywhere.
Special Features:
Trailer Gallery
The Making of Hard Revenge Milly
The Making of Hard Revenge Milly: Bloody Battle

Video Tracks:
1.85:1 anamorphic widescreen

Audio Tracks:
Dolby Digital 2.0 Stereo Japanese

Subtitle Tracks:
English

Directed By:
Takanori Tsujimoto

Written By:
Takanori Tsujimoto

Starring:
Miki Mizuno
Tetsuya Nakamura
Hiroshi Ohguchi
Rei Fujita
Mitsuki Koga
Masahiro Kômoto
Nao Nakazawa
Kazuki Tsujimoto

Music From:
Hikaru Yoshida

Director of Photography:
Hajime Ishida
Takanori Tsujimoto

Visual Effects:
Yoshihiro Nishimura

Producer:
Yoichi Kobayashi

Distributor:
Cine Asia