Review for UFC 104 Machida vs. Shogun
This pay-per-view will only ever be known for one of the most controversial decisions in the history of MMA. I will attempt to tread carefully not to give away the result of the now highly disputed main event, but if you don't already know then, quite frankly, you must have been living under a rock for the past year or so.

You see, I don't think many fans will even be able to remember another fight on the card, let alone any on the under-card.  Instead the only thing left etched in the memories of fight fans from UFC 104 is the shock of one fighters hand being raised after a highly entertaining headline event.

And highly entertaining it was. Lyoto Machida, 'The Dragon,' the Karate Kid of MMA, who had torn through the light-heavyweight division without so much as taking a punch, taking on the former PRIDE superstar, the ultra-aggressive, Muay Thai master who had destroyed the likes of Rampage Jackson and knocked out Chuck Liddell.

But don't forget, we also had heavyweight prospect Cain Valasquez taking on big Ben Rothwell, and that's before we even mention Joe Stevenson vs. Spencer Fisher, or Anthony 'Rumble' Johnson vs. Yoshiyuki Yoshida.

Forget the decision, this was a hell of a card anyway.

Video

Video is presented in 4:2 PAL and is of the highest quality for a DVD of this genre.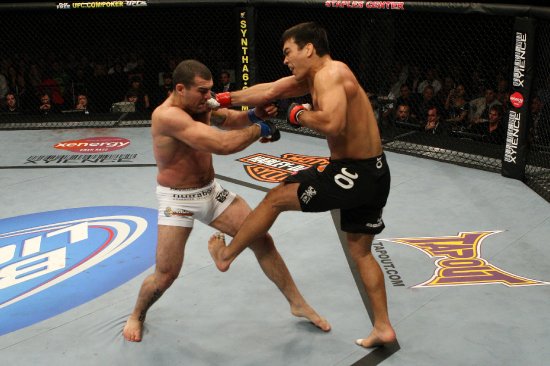 Audio
Audio is 2.0 Dolby Digital and is extremely clear. We get entertaining commentary for Joe Rogan and Mike Goldberg, and we also get in the corners of each fighter between rounds. 
Extras
The tried and trusted extras here, Countdown to UFC 104 serves as a good build up to the event, but not always such a great watch afterwards. I'd say the same about the weigh-in show. 
The saving grace is the behind the scenes show which, as per, is very interesting. Although this time it takes a wider approach, looking at a handful of fighters and different aspects of the build up and aftermath of the fights. 
It would be nice to see something added to the extras to give them a little more than what's on offer.
Conclusion
This is a very good event with, whatever the decision, an excellent five round contest at the finale. These two, Machida and Shogun, are two of the very best elite mixed martial artists in the world and seeing them compete is worth the price alone.
Aside from that the other events are worth watching, if a little one sided. I don't think these fights are all evenly matched, but they certainly provide entertainment.
In the prelims there are some very interesting bouts, some which I was surprised didn't make it onto the main card. Give me a Pat Barry vs. Antoni Hardonk or Chael Sonnen vs. Yushin Okami over a Josh Neer vs. Gleison Tibau any time.
All in all this is a good event. There are a mixture of good and bad fights here, but I feel a lot of people will be put off by the controversy following the main event, which is a shame because the fight is certainly worth it.