Sinking Of Japan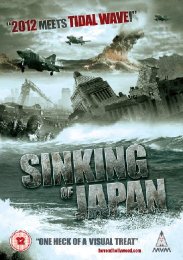 aka Nihon Chinbotsu
Certificate: 12
Running Time: 135 mins
Retail Price: £15.99
Release Date: 2010
Content Type: Movie
Synopsis:
When an underwater earthquake strikes deep beneath Suruga Bay it proves to be just the first in a series of devastating natural disasters to hit Japan in quick succession. Soon the entire nation and its people are under assault from further earthquakes, tsunamis and volcanic eruptions caused by massive tectonic shifting in the area.

Geological research into the events reveals the government's worst fears - Japan has less than a year before Mount Fuji itself erupts and the entire country sinks into the sea disappearing from the face of the earth forever! As cities are reduced to rubble by quakes and tidal waves, the government begins immediate evacuation plans, but it quickly becomes obvious that only a fraction of the population is likely to survive. With nothing left to lose, devise a desperate plan to avert the final disaster by planting and detonating huge explosives deep in the earth's crust.

Caught up in the ongoing chaos are three individuals united by their calamitous circumstances: research submarine pilot, Toshio Onodera; rescue worker, Reiko Abe; and a young orphan girl, Misaki Kuraki. Together, they struggle to survive as the fate of the nation hangs precariously in the balance. But what they are yet to learn is that one of them will be called upon to make the ultimate sacrifice in an act of bravery that could save people and the country they love.
Special Features:


Video Tracks:
2.35:1 anamorphic widescreen

Audio Tracks:
Dolby Digital 5.1 Surround Japanese
Dolby Digital 2.0 Stereo Japanese

Subtitle Tracks:
English

Directed By:
Shinji Higuchi

Written By:
Sakyo Komatsu
Masato Kato

Starring:
Tsuyoshi Kusanagi
Kou Shibasaki
Etsushi Toyokawa
Mao Daichi
Mitsuhiro Oikawa
Mayuko Fukuda
Hideko Yoshida
Akira Emoto
Jun Kunimura
Kôji Ishizaka

Casting By:
Toshiie Tomida

Music From:
Taro Iwashiro

Director of Photography:
Taro Kawazu

Editor:
Hiroshi Okuda

Production Designer:
Yasuaki Harada

Producer:
Toshiaki Nakazawa

Executive Producer:
Kazuya Hamana

Distributor:
MVM