Cities Of The Underworld: Complete Seasons 1 And 2 (8 Discs) (History Channel)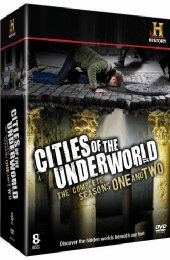 Certificate: Exempt
Running Time: 1030 Mins
Retail Price: £29.99
Release Date: 08/02/2010
Content Type: TV Series
Synopsis:
With each step below street level you travel back decades, even centuries, into the fascinating past of the world's great cities. What mysteries await discovery in the dark corners of these subterranean realms? For two seasons, CITIES OF THE UNDERWORLD has explored secret chambers and forbidden passages beneath city streets, unlocking mysteries of the past and discovering forgotten relics.

With infectious enthusiasm and runaway curiosity, and aided by instructive computer animations and maps, hosts Don Wildman and Eric Geller explore hundreds of feet below street level to transport you underground and back in time. Check your batteries, it's dark down there!

In the first season of this runaway hit show, Eric and Don take you beneath the streets of the most beautiful cities in the world - Paris, Budapest and Bucharest. From secret meeting halls and dungeons to the footings of modern civilization itself they explore vaults, chambers and catacombs to bring the past alive.

In the second season, CITIES takes you to the darkest recesses of New York, Dublin, Berlin, Moscow, Washington, DC and many more places. You explore the relics of the ancient Maya, the Vikings and the Knights Templar. You delve into the secrets of Stalin, Hitler and the Viet Cong.

It's amazing what lies just beneath our feet, and what CITIES OF THE UNDERWORLD reveals!
Special Features:
Bonus featurette containing additional scenes: Beneath Vesuvius
Budapest: Hungarian Champagne
Edinburgh: Repelling Down a Volcano
Freemasons Underground
London: Cheers
New York
Paris: Metro Origins
Rome: Soccer Fever
Rome: Taste Test and Stonecutting

Distributor:
History Channel