Sherlock Hound: The Complete Series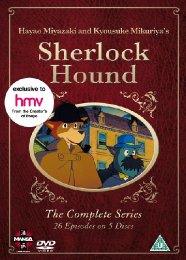 From Hayao Miyazaki and Kyosuke Mikuriya
Certificate: U
Running Time: 655 mins
Retail Price: £29.99
Release Date: 2010
Content Type: TV Series
Synopsis:
Forget Guy Ritchie's recent interpretation of the world's most famous detective. Sir Arthur Conan Doyle's super sleuth, Sherlock Holmes, gets a unique animated makeover courtesy of acclaimed writer-directors Hayao Miyazaki (Howl's Moving Castle; Spirited Away) and Kyosuke Mikuriya (Ulysses 31) in Sherlock Hound: The Complete Series.

Brilliantly and wittily depicting all the characters as anthropomorphic dogs, Miyazaki and Mikuriya's version presents a light-hearted and imaginative series of canine capers featuring the famous dog detective and his loyal companion Dr. Watson as they set out to solve a myriad of mysteries and take on Holmes's arch-nemesis, the evil genius Professor Moriarty.

Now, for the first time ever in the UK, all 26 episodes of this cult 1980s cartoon series have been collected together into one deluxe, five-disc DVD box set. Representing the early work of master animator Hayao Miyazaki prior to the establishment of Studio Ghibli and his subsequent international fame, Sherlock Hound: The Complete Series is a must-have addition to every anime fan's collection.
Special Features:


Video Tracks:
4:3 regular

Audio Tracks:
Dolby Digital 2.0 mono English

Directed By:
Hayao Miyazaki
Kyosuke Mikuriya

Written By:
Gi Pagot
Hayao Miyazaki
Marco Pagot
Sunao Katabuchi
Arthur Conan Doyle
Toshiya Ito
Tsunehisa Ito
Yoshihisa Araki

Starring:
Hamilton Camp
Larry Moss
Lewis Arquette
Pat Morris

Music From:
Kentaroh Haneda

Director of Photography:
Akio Wakana
Hirokata Takahashi

Editor:
Shuichi Kakesu
Takeshi Seyama

Producer:
Yoshimitsu Takahashi

Executive Producer:
Shunzo Kato
Yutaka Fujioka

Distributor:
Manga Entertainment