Wrong Turn 3: Left For Dead
I liked the first Wrong Turn, in which a group of doctors go on a camping trip only to be picked off one by one by a group of cannibalistic inbred hillbilly.  It played up to the exploitation roots and I completely missed the sequel, a straight to video affair but wasn't surprised to discover that yet another had been made.
 
This third instalment begins with four friends on a rafting trip who decided to take a break and camp overnight.  One of the girls strips down to her bikini bottoms and before any hanky panky can take place, she's shot twice with arrows, one sticking out of her breast and the other neatly removing her eye.  The others flee and, with the exception of the other girl, are dispatched in similarly nasty ways - one with a spear through the head and another chopped into three vertical slices.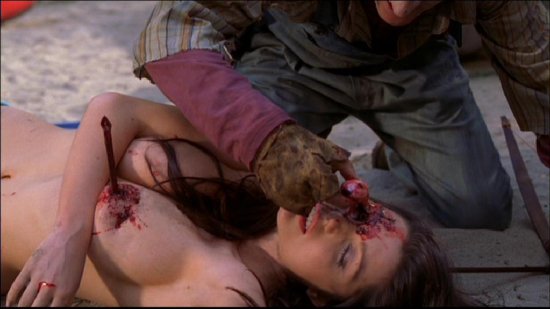 Meanwhile, a group of prisoners are being arranged for transfer from a maximum security jail, with the journey to take place at night and use a back road through the mountains to reduce the chance of a breakout. 
You know where this is going, right? 
During the journey, in which the eight criminals who range from car thieves to murderers and drug dealers yet are only assigned two guards and an undercover US Marshal, tensions rise and they make a quick stop at a sheriff's station to use the facilities.  Here it's established that Corrections Officer Nate Wilson grew up in the area and knows the sheriff.  Back on the road and the bus is trailed by a pickup truck which flashes its lights, turns them off and then overtakes, trailing a length of barbed wire, puncturing a tyre and sending the bus careering off the road. 
The two guards manage to get the convicts out but don't have the keys to unshackle them, but in the mayhem of the exploding bus and injured driver, the alpha male, Carlo Chavez, manages to get a gun and take control of the situation.  Whilst trekking through the woods to look for somewhere with communications equipment, they find the surviving girl from the prologue and a crashed security van full of money which Carlo Chavez decides to take.  She tells them that there is a three toed cannibal in the woods who will kill them all and, sure enough, the carnage commences and their numbers dwindle.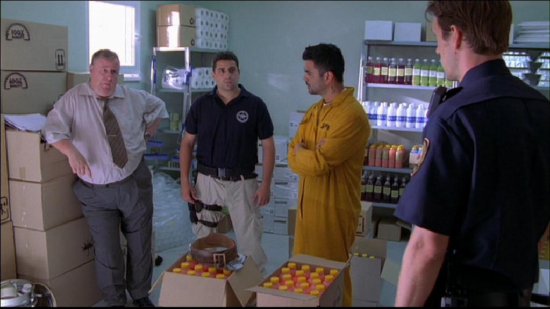 Wrong Turn 3
is an odd production, shot by an American director in Hungary with a British cast - all of whom are playing Americans!  It seems that it's basic ambition is to provide an action-packed horror movie with gratuitous gore.  It certainly does that.  What is lacking is a decent script with dialogue that doesn't make you shudder, realistic SFX makeup and characters who aren't clichéd stereotypes that you've seen many times before.  The mountain men look silly rather than scary, with their elongated noses and receding hair looking more like a Freddy Kruger Halloween mask than anything particularly creepy and disturbing.  
This is a pretty inept effort and I spent a great deal of time laughing at the horrible dialogue and wondering just how conventional the film would be.  The answer is, 'very'. 
The Disc
Extra Features
There is a three part making of that you can watch sequentially or in individual sections and director Declan O'Brien talks enthusiastically about the shoot, how some stunts were done, why film where he did and use the cast he did, who are also interviewed. 
There are also two deleted/extended scenes that fail to excite or demand reinsertion. 
The Picture
Surprisingly good quality for a film with an obviously moderate budget and shot at speed (24 days), as the contrast is good and colours bright.  Most of the events take place outside and at night so the clarity levels are pleasing. 
As I've said, some of the gore effects are laughable but others are reasonably effective and will have squeamish viewers covering their eyes.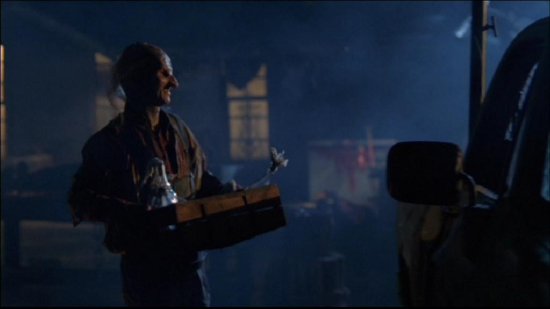 The Sound
A better than decent Dolby Digital 5.1 track which presents the dialogue well and uses the surrounds to good effect in the set piece action scenes.  There is also a French audio option and a variety of subtitles including English HoH. 
Final Thoughts
Wrong Turn 3
is rubbish.  It's one of those cheap horror movies that are shot quickly with relatively inexperienced cast and crew and hopes to break even on the home entertainment market.  If you are a fan of the wrong turn movies, give it a look but don't expect anything special.