Street Trash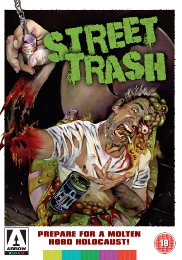 The Ultimate Melt Movie
Certificate: 18
Running Time: 97
Retail Price: £15.99
Release Date: 11/01/2010
Content Type: Movie
Synopsis:
Prepare to witness a molten hobo holocaust as the homeless denizens of New York City's skid row and its nearby junkyards fall foul to the irresistible taste of Tenafly Viper, an alcoholic delight that brings a whole new meaning to the term "gut rot". When a local liquor store owner discovers a case of out-of-date Viper in his basement, little does he know that selling it off cheap to the bums who frequent his store will have the devastating effect of turning those who even sip the brew into a exploding and melting, Day-Glo masses of liquefied flesh and bone. And a lot of them want to sip it!

Directed by Michael J. Muro (today a prolific and highly respected Director of Photography and Steadicam Operator whose impressive list of credits includes award winning blockbusters such of "Crash", "Titanic", "Heat" and "Terminator 2" to name a few) and co-written by Muro and Roy Frumkes (director of the George A. Romero documentary, "Document Of The Dead"), STREET TRASH is one movie that, prior to its release, nobody had ever seen the likes of which before, and it's highly unlikely we'll ever see anything quite like it again.
Special Features:
- The Meltdown Memoirs
- Interview with Jane Arakawa
- Booklet
- Reversible Sleeve
- Poster

Video Tracks:
Anamorphic Widescreen 1.78:1

Audio Tracks:
Dolby Digital 2.0 Stereo English

Directed By:
J. Michael Muro

Written By:
Roy Frumkes

Starring:
Mike Lackey
Bill Chepil
Vic Noto
Mark Sferrazza
Jane Arakawa
Nicole Potter
Pat Ryan
Clarenze Jarmon
Bernard Perlman
Miriam Zucker
M. D'Jango Krunch
James Lorinz
Morty Storm
Sam Blasco
Bruce Torbet
Tony Darrow

Soundtrack By:
Rick Ulfik

Director of Photography:
David Sperling

Editor:
Dennis Werner

Costume Designer:
Michele Leifer

Production Designer:
Robert Marcucci

Producer:
Roy Frumkes

Executive Producer:
Edward Muro Sr.
James Muro Sr.

Distributor:
Arrow Video