X-Men Season 5 Volume 1 DVD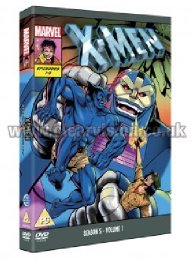 Certificate: U
Running Time: 101 Mins
Retail Price: £14.99
Release Date: 04/01/10
Content Type: TV Series
Synopsis:
Episode #1
Phalanx Covenant, Part I
The X-Men hurry downtown to capture a rampaging Sabretooth, only to find the tables turned on them by the Phalanx, a formidable race of techno-organic shape shifters. Heir to the Phalanx, Warlock, allies with Beast and Forge to prevent a human feeding frenzy and ensure the safety of Earth.

Episode #2
Phalanx Covenant, Part II
An unexpected alliance is formed as evil mutants Mister Sinister and Magneto join forces with Beast, Forge and Warlock to stop the Phalanx taking over. A daring plan to attack the very core of the Phalanx leads the X-Men into a risky showdown at the Empire State Building.

Episode #3
Storm Front, Part I
Arkon, the leader of a dying planet, unleashes freak weather conditions over Washington D.C. in order to kidnap a reluctant Storm. The subsequent rescue attempt takes on a whole new dimension for the X-Men, as the mistress of the elements tries to restore the alien planet's raging eco-system.

Episode #4
Storm Front, Part II
Storm agrees to become Queen, triggering joyous preparations for her wedding to Arkon. The palace is no happy ship though, as the X-Men uncover a fleet of slaves terrorized by a ruthless tyrant. The big day threatens to become a turbulent affair.

Episode #5
The Fifth Horseman
Dreaded mutant Apocalypse dispatches Fabian Cortez to find a new host body for his escape from the Astral Plane. The kidnapping of Jubilee leads Beast into a monstrous battle at the temple, resulting in a sacrilegious transformation for Cortez.
Special Features:


Related Websites:
http://www.clearvision.co.uk/products/X-Men-Season-5-Volume-1-DVD.html

Audio Tracks:
English

Subtitle Tracks:
German, Dutch, Finnish, Danish, Swedish, Norwegian

Distributor:
Clear Vision Ltd