I'm not feeling myself tonight!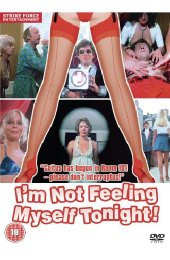 Coitus has begun in room 101 - please don't interuptus!
Certificate: 18
Running Time: 1hr 21 Mins
Retail Price: £14.99
Release Date: 23/11/09
Content Type: Movie
Synopsis:
Virginal nerd Jon Pigeon works in a peculiar sex research institute in which patients run about the corridors naked, nude aerobics are encouraged and where no man is safe from a crotch grabbing old tea lady. In order to seduce office secretary Cheryl, Pigeon invents a machine nicknamed Agnes which emits a 'sonic aphrodisiac' that can turn any man or woman into an over-lustful sex maniac. While his attempts to zap Cheryl end in disaster, Pigeon has some fun turning the 'sexy ray' on his bullying boss Nutbrown and clean up campaigner Mary Watchtower.
Special Features:
Stills Gallery

Audio Tracks:
Mono

Directed By:
A thoroughly ashamed Joseph McGrath

Written By:
David McGillivray

Soundtrack By:
Cy Payne

Director of Photography:
Kenneth Higgins

Editor:
Jim Atkinson
John W. Carr

Producer:
Laurence Barnett
Malcolm Fancey
John Lindsay