Gone in Sixty Seconds (US)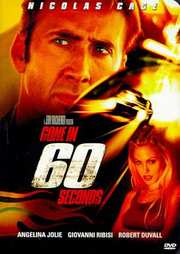 Ice cold, hot wired
Certificate: PG-13
Running Time: 118 mins
Retail Price: $29.99
Release Date:
Content Type: Movie
Synopsis:
Academy Award winners Nicolas Cage (The Rock) and sexy Angelina Jolie (The Bone Collector) ride an unstoppable wave of speed and adrenaline in this hot, edgy action hit from high-octane producer Jerry Bruckheimer (Armageddon).

Legendary car booster Randall "Memphis" Raines (Cage) thought he`d left the fast lane behind - until he`s forced out of retirement in a do-or-die effort to save his kid brother (Giovanni Ribisi, Saving Private Ryan) from the wrath of an evil mobster! But with speed to burn and attitude to spare, Memphis hastily re-assembles his old crew - a rogues` gallery including Academy Award winner Robert Duvall (A Civil Action) - and floors it in a full-throttle race to pull off the ultimate car heist: 50 exotic beauties in 24 hours - and the cops are already on to them!

Directed by Dominic Sena and written by Scott Rosenberg, Gone In Sixty Seconds is an action-packed thrill ride that comes out fast and never slows down.
Special Features:
Interactive Menus
Scene Access
Exclusive Behind-The-Scenes Featurettes Created For This DVD
"Action Overload" Highlight Reel Featuring Spectacular Adrenaline-Pumping Scenes -- Music Video-Style
Conversations With Jerry Bruckheimer On The Role Of The Produce
The Cult Music Video
Animated Menu Screens
Theatrical Trailer

Video Tracks:
Widescreen Anamorphic 2.35:1

Audio Tracks:
Dolby Digital 5.1 English
Dolby Digital 5.1 French
Dolby Digital 5.1 Spanish

Subtitle Tracks:
Spanish
CC: English

Directed By:
Dominic Sena

Written By:
H.B. Halicki
Scott Rosenberg

Starring:
Robert Duvall
Will Patton
James Duval
Scott Caan
William Lee Scott
T.J. Cross
Giovanni Ribisi
Angelina Jolie
Nicolas Cage

Casting By:
Victoria Thomas

Soundtrack By:
Trevor Rabin
Paul Linford

Director of Photography:
Paul Cameron

Editor:
Tom Muldoon
Chris Lebenzon

Costume Designer:
Marlene Stewart

Production Designer:
Jeff Mann

Producer:
Mike Stenson
Pat Sandston
Aristides McGarry
Jerry Bruckheimer

Executive Producer:
Barry H. Waldman
Webster Stone
Robert Stone
Chad Oman
Jonathan Hensleigh
Denice Shakarian Halicki

Distributor:
Buena Vista