Chanbara Beauty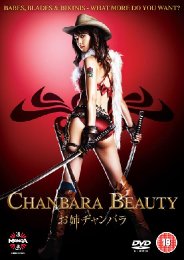 Babes, Bikinis, Blades, Guns and Zombies
Certificate: 18
Running Time: 86 mins
Retail Price: £17.99
Release Date: 2009
Content Type: Movie
Synopsis:
Based on the hit Japanese video game series "The Onechanbara", the directorial debut feature from cinematographer Yohei Fukuda (Grotesque), CHANBARA BEAUTY stars Eri Otoguro (Vampire Girl vs. Frankenstein Girl; Shutter), Tomohiro Waki (Initial D - Drift Racer) and Taro Suwa (End Call; The Machine Girl) in a pulse pounding action-horror extravaganza that entertainingly delivers the goods from the get-go.

It's the near future and the majority of the world's population has been transformed into flesh-eating zombies by a virus created by mad scientist, Dr. Sugita (Suwa). Attempting the level the score of humans vs. zombies is Aya (Otoguru), a beautiful samurai assassin with a minimalist dress code and a fondness for very sharp blades who is searching for her younger sister, Saki (Chise Nakamura), missing since she murdered her and Aya's father. Accompanying Aya is Katsuji, a well-meaning but somewhat bumbling and cowardly guy whose own sister has been kidnapped by Sugita. During the search for their respective siblings, they are joined by a gun-wielding, leather clad biker girl named Reiko (Manami Hashimoto), who has lost her young daughter to the zombie plague and is now seeking her own revenge on the one responsible, namely Sugita.

Slashing and blasting their way across the country through a mire of zombie gore as they progress ever close to their goal, the trio are seemingly unstoppable in their quest. That is until they meet Aya's equal and now arch-nemesis, Saki, who is now in the evil employ of the psychotic scientist with plans on taking over the world by means of a zombie army.
Special Features:
Making Of Featurette
Trailer

Video Tracks:
1.85:1 anamorphic widescreen

Audio Tracks:
Dolby Digital 5.1 Surround Japanese
Dolby Digital 2.0 Stereo Japanese

Subtitle Tracks:
English

Directed By:
Yôhei Fukuda

Written By:
Yôhei Fukuda
Yasutoshi Murakawa

Starring:
Eri Otoguro
Tomohiro Waki
Tarô Suwa
Manami Hashimoto
Chise Nakamura
Ai Hazuki
Satoshi Hakuzen
Hiroaki Kawatsure
Sari Kurauchi
Tomoya Nagai
Tetsu Watanabe

Music From:
Chika Fujino
Hideki Ikari

Director of Photography:
Yôhei Fukuda

Production Designer:
Tomoya Imai

Visual Effects:
Tsuyoshi Kazuno

Producer:
Masanori Kawashima
Ryô Murata
Hideyuki Sakurai
Kyôsuke Ueno

Executive Producer:
Shunsuke Yamada
Takafumi Ôhashi
Hideo Tsujihata

Distributor:
Manga Entertainment