The Wicker Man: 3 Disc Collector's Edition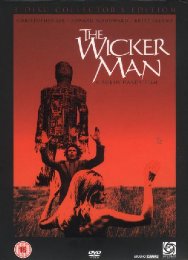 Flesh to touch...Flesh to burn! Don`t keep the Wicker Man waiting!
Certificate: 15
Running Time: 84 mins
Retail Price: £20.99
Release Date: 04/09/2006
Content Type: Movie
Synopsis:
Since its release in 1973, The Wicker Man has held an enduring fascination for audiences, commanding a devotion that most films can only dream of. A unique and bona fide horror masterpiece, the film can now be seen in its original theatrical version and Director's Cut including 15 minutes of footage that was thought lost for decades!

When a young girl mysteriously disappears, Police Sergeant Howie (Edward Woodward) travels to a remote Scottish island to investigate. But this pastoral community, led by the strange Lord Summerisle (Christopher Lee) is not what it seems as the devoutly religious detective soon uncovers a secret society of wanton lust and pagan blasphemy.

Brilliantly scripted by Anthony Shaffer (Sleuth, Frenzy) and featuring an astounding performance by the legendary Christopher Lee, director Robin Hardy's atmospheric use of location, unsettling imagery and haunting soundtrack gradually builds to one of the most terrifying and iconic climaxes in modern cinema.
Special Features:
- Theatrical and Director's cuts
- Audio Commentary with Christopher Lee, Edward Woodward, director Robin Hardy and moderated by Mark Kermode
- The Wicker Man Enigma
- Burnt Offering: The Cult of The Wicker Man
- Interview with Christopher Lee and Edward Woodward from 1973
- Trailers, radio spots, TV spots
- CD Soundtrack

Video Tracks:
Anamorphic Widescreen 1.85:1

Audio Tracks:
Dolby Digital 5.1 English
Dolby Digital Mono English

Directed By:
Robin Hardy

Written By:
Anthony Shaffer

Starring:
Edward Woodward
Christopher Lee
Diane Cilento
Britt Ekland
Ingrid Pitt
Lindsay Kemp
Russell Waters

Soundtrack By:
Paul Giovanni

Director of Photography:
Harry Waxman

Editor:
Eric Boyd-Perkins

Costume Designer:
Sue Yelland

Producer:
Peter Snell

Distributor:
Optimum Home Entertainment