Desert Punk: Volume 4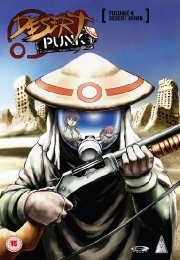 Or how to flush a reputation down the tubes...
Certificate: 15
Running Time: 97 mins
Retail Price: £15.99
Release Date: 2009
Content Type: TV Series
Synopsis:
In a future world decimated by war, Japan has become a vast desert populated by small groups of human survivors struggling to eke out a meagre living amongst the hot sands. Wandering the wasteland of the Great Kanto Desert is a hormonal, breast-obsessed badass, a mysterious and mouthy mercenary known as the Desert Punk. Willing to take on any job so long as cold, hard cash is his reward, Desert Punk's victories and conquests have earned him a reputation that reaches far and wide and have made him a legendary figure to be feared.

The Great Kanto Desert is a place of extremes, and those who manage to thrive and survive at times seem harsher than the climate. Yet even these remnants of humanity have a softer side.

When Desert Punk's life is saved by an honest man, he is taught a valuable lesson in decency; a lesson he quickly forgets. But decency has no part in his next job, which is easily his crappiest task yet... literally.
Special Features:
Tokyo Animator College
As Seen On TV
Textless Songs
Trailers

Video Tracks:
4:3 regular

Audio Tracks:
Dolby Digital 5.1 Surround English
Dolby Digital 2.0 Stereo Japanese

Subtitle Tracks:
English

Directed By:
Takayuki Inagaki

Written By:
Hiroshi Yamaguchi
Masatoshi Usune

Starring:
Chihiro Suzuki
Tomoko Kotani
Chiwa Saito
Jiro Saito
Norio Wakamoto
Callie Young
Eric Vale
Chris Ayres
Cole Brown
Greg Ayres

Music From:
Kôhei Tanaka

Director of Photography:
Naoki Kitamura

Editor:
Kiyoshi Hirose

Producer:
Kazuhiko Suzuki
Takashi Watanabe
Takeyuki Okazaki
Takuya Chiba
Yoko Kawahara
Yuichi Tanaka

Executive Producer:
Kiyofumi Kuratomi
Masafumi Yamada
Naotsugu Kato
Ryosuke Watanabe
Satoru Shika
Shinichi Ishikawa
Yoko Furukawa

Distributor:
MVM