The Young Victoria

The common perception of Queen Victoria is of a serious, dumpy dowager who was 'not amused' who spent her life in black mourning over the loss of Prince Albert and presiding over the biggest empire ever seen in modern times. With this image firmly implanted in the public psyche we tend to forget that before Albert died she was a happy and lively woman who struggled against court manipulation when ascending to the throne at the tender age of 18. 
 
In the early 19th century Europe was governed by monarchies with King Leopold of the Belgians as the kingmaker deciding which monarch from which family would be best for him as he was in a fairly vulnerable position.  In the 1830s Britain was ruled by King William IV who had waited until the age of 65 before becoming king (a record that still stands, although Prince Charles is catching him up) and was aware of his own frailties and power struggles behind the scenes.  As he was childless and his siblings had only managed to produce one legitimate offspring, Victoria, he was mindful that the young princess would have to be 18 to become monarch in her own right otherwise her mother, controlled by her secretary Sir John Conroy, would become Regent, and he made no secret of his hatred of her and Sir John.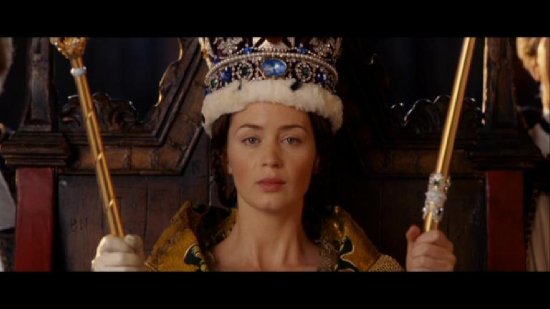 Jean-Marc Vallée's The Young Victoria, scripted by Julian Fellowes, begins with Victoria's coronation before flashing back to show her strict and lonely upbringing as a girl forbidden to read fiction books or even walk unescorted up and down stairs, so all she had was her collection of dolls, music and dog Dash.  Managing her life was her German widowed mother, the Duchess of Kent, and her mother's personal secretary John Conroy who was knighted at her mother's request.  Her mother had taken up residence in unused rooms in Kensington Palace and Sir John was busy lining his pockets from the Duchess' generous allowances from the King.  Sir John was desperate to become the de facto regent and tried to physically force Victoria to sign the power of regency over to her mother (and, by proxy, him).  Victoria, as we know, refused and when King William died just after she attained the age of 18 she became Queen. 
 
The battle then began in earnest to find a suitable husband for the Hanoverian queen with Leopold keen for a member of his extended Saxe- Coburg family to marry Victoria and therefore consolidate his influence over the British throne. (The Godfather trilogy has nothing on this!).  In the running were young men from the royal courts of Europe particularly one of her cousins, Prince Albert of Saxe-Coburg and Gotha.  The film introduces a secondary plot with a rival for her trust and affections in the shape of Lord Melbourne, the Prime Minister who was more interested in filling the Royal Household with Whigs to control her and cement his own powerbase in Parliament.  Though they first met when she was a 17 year old princess, Albert and Victoria continued to communicate and grew closer until she proposed (as hierarchy overrode patriarchy and a man couldn't propose to a reigning monarch) a few years into her reign aged 20.
 
This is where the story ends in terms of the film, though the rest of the story is told through a series of intertitles before the final credits.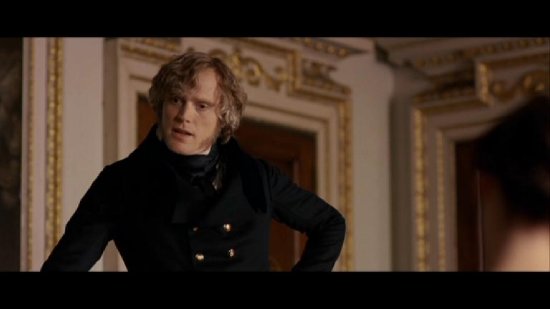 The cast is a terrific mix of established British actors and promising newcomers including Miranda Richardson as the Duchess of Kent, Mark Strong as Sir John, Paul Bettany as the rakish Lord Melbourne, Jim Broadbent as King William, Rupert Friend as Prince Albert and Emily Blunt as Victoria.  Canadian director Jean-Marc Vallée is relatively inexperienced with only a few French language films to his name and C.R.A.Z.Y. as his only English language film yet his handling of such an ambitious project belies this and he has quite an impressive team around him in charge of production design, costumes, set decoration and, of course, the Oscar winner Julian Fellowes in charge of the script.
 
The Young Victoria is basically a romantic drama with the relationship between her and Albert at the centre and the political ambitions of John Conroy, Lord Melbourne, Robert Peel and the Duke of Wellington as sub-plots and obstacles to their future.  I enjoyed this at the cinema and oddly liked it more when I watched it last night, appreciating the political machinations and richness of the screenplay more.  Though directed by a Frenchman and with another as the production designer, this looks and feels like a good old British costume drama with lavish gowns and beautifully dressed sets. 



The Disc
Extra Features
Sadly a case of quantity over quality with seven different featurettes but with a total running time of less than half an hour, discounting the 22 minutes of deleted scenes.  Over the various featurettes there are interviews with all the producers except Martin Scorsese and most of the crew as they cover the attention to historical detail, costumes, sets and locations.  These are done in a fairly perfunctory manner and though they mention that a certain house was used, I would have liked a more comprehensive guide to which buildings stood in for which palaces and houses, where sets were used and how they researched and built them.  Though Sarah Ferguson is interviewed there is nothing to indicate her level of involvement - she may have had some input into securing stately homes as locations, and I would have like to have known what, if any, that was.  
The areas covered in most detail were the costumes and the coronation but these were done in several minutes each whereas they could have done with at least 20 - if you are going to talk about the importance of getting the underwear right, please show me the research and a mannequin with undergarments used in the film.  Tying in with the coronation, when you have that many people in period costumes, please tell us where the costumes came from, what they were made out of (were all of them made from the 'correct' materials or just those nearest the camera?) and what happened to them after shooting? 
Either do it in detail or don't do it at all - featurettes of this brevity are irritatingly teasing.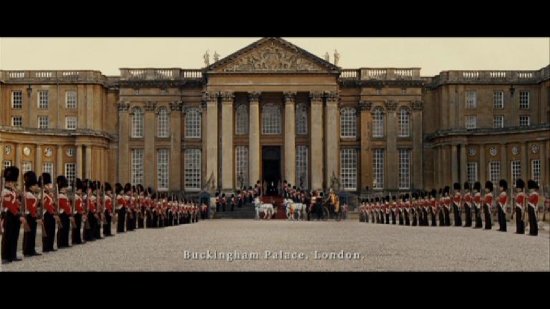 The Picture
The Young Victoria
looks stunning and it's a shame that there is no Blu-ray release as it is such a terrific visual spectacle that a High Definition picture would really have done it full justice - I watched it on a DVD upscaler which showed the incredible attention to detail, great use of mise-en-scène and terrific sets.  It is a costume drama that looks very good and there has clearly been a lot of work put into all the visual elements from costumes, to set decoration to lighting and location scouting, all of which pays dividends.  
The Sound
A gloriously opulent surround with a suitably stirring and rousing score from Ilan Eshkeri which can be both nuanced and enveloping.  The dialogue is crystal clear and beautifully delivered by the cast, some of whom demonstrate surprisingly realistic Teutonic accents. 
There are English HoH subtitles should you require them plus an audio descriptive track so both the Hard of Hearing and Visually Impaired have been catered for.  It's a thoughtful and welcome addition to the DVD and something that should be encouraged.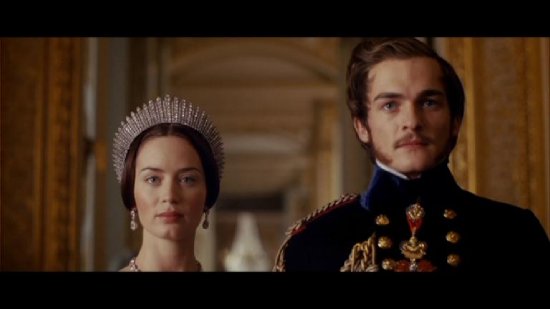 Final Thoughts
The Young Victoria
is a film that will probably appeal mostly to middle aged women who can't get enough period dramas but, with numerous shallow, materialistic and insulting films aimed at young teenage girls this is a film that shows that you don't have to be tarted up and willing to put out to be successful. The central character is intelligent and willing to listen and learn in order to break free from unwanted control  to become one of the most important and revered monarch in Britain's history.  Queen Victoria has already been the subject of one fine film in
Mrs Brown
-
The Young Victoria
is another.