One final fling?
Introduction
Despite being consistently brilliant, Futurama was cancelled after only four seasons in 2003. Once again, "the network" didn't get a show enjoyed and loved by fans, and gave it the boot whilst still shelling out for garbage like American Idol, America's Most Wanted and Are You Smarter than a 5th Grader...
However, following repeats on Cartoon Network (in the US), the show was revived (following a deal between Comedy Central and Fox) into 4 straight to DVD feature length episodes, which are now being split into 20 minute TV episodes and have become the "fifth season".
This is the final instalment of the four features, following on from Bender's Big Score, The Beast with a Billion Backs and Bender's Game.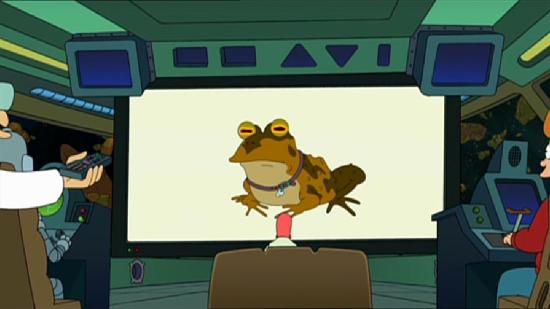 Mankind stands on the brink of a wondrous new Green Age. But ancient forces of darkness, three years older than time itself, have returned to wreak destruction. Even more shocking: Bender's in love with a married fembot, and Leela's on the run from the law - Zapp Brannigan's law! Fry is the last hope of the universe...so if you're in the universe, you might want to think about going somewhere else. Could this be the end of the Planet Express crew forever? Say it ain't so, meatbag! Off we go, Into The Wild Green Yonder!
Video and Audio
Everything looks and sounds great. As with the other features in the series, Futurama is now in widescreen, and there's a DD5.1 soundtrack to go along with that. Nothing to complain about.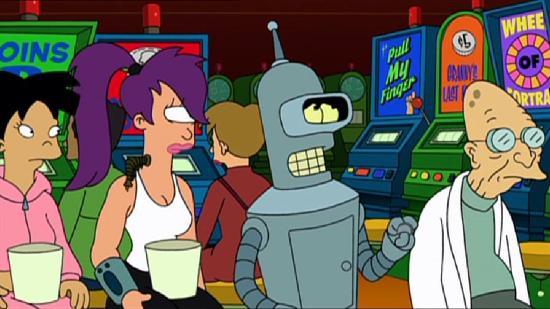 Extra Features
Again, as with other films, we get a full length commentary featuring the usual suspects of Groening, Cohen and company. Interesting and amusing as ever.
Alongside this we have the usual things found on animation DVDs - storyboards, deleted scenes, animatics and lessons in how to draw the characters.
We also get the brilliant Zapp Brannigan's Guide to making love at a woman, Bender's cinema etiquette, a brief making of spoof, and some easter eggs.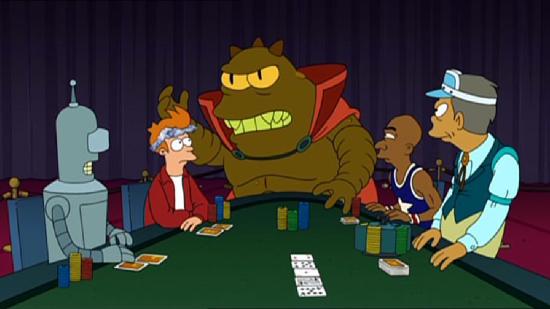 Conclusion
Unlike the previous excellent instalment of Futurama, this one turns out to be a bit more hit and miss, but it should never have been cancelled in the first place. If you like Futurama, then you'll probably still enjoy this. If you've never seen Futurama but like one or more of comedy, animation and science fiction, then you should check it out also.
The only thing I will really moan about is that it's criminal to have the Zapper back at last and then underuse him. His character has been consistently brilliant, so why waste him?
Let's hope Futurama is back with us for good...