Gettysburg (US)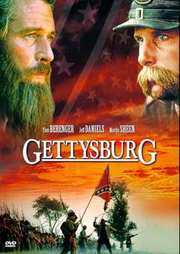 Same Land. Same God. Different Dreams
Certificate: PG
Running Time: 254 mins
Retail Price: $24.98
Release Date:
Content Type: Movie
Synopsis:
Summer 1863. The Confederacy pushes north into Pennsylvania. Union divisions converge to face them. Two great armies will clash at Gettysburg, site of a theology school. For three days, through such legendary actions as Little Round Top and Pickett`s Charge, the fate of "one nation, indivisible" hangs in the balance.

The bloodiest battle fought on American soil comes to the screen in a powerful production "about the strategies, calculations, mistakes and heroism that turned the tide of the Civil War - a film Civil War buffs will find indispensible" (Roger Ebert, Chicago Sun-Times).

Tom Berenger, Jeff Daniels, Martin Sheen, Richard Jordan and more play key roles in this magnificent epic based on Michael Shaara`s Pulitzer Prize - winning The Killer Angels, filmed at actual battle locations and rigorously authenticated down to the boots.
Special Features:
Interactive Menus
Scene Access
Behind-the-Scenes Documentary The Making of Gettysburg, Narrated by Martin Sheen
Vintage Oscar Nominated Documentary The Battle of Gettysburg, Narrated by Leslie Nielsen
Cast/Crew Interview Gallery
Battlefield Maps
Feature-length Audio Commentary by Director/Screenwriter Ronald F. Maxwell, Cinematographer Kees Van Oostrum, Pulitzer Prize-winning Author James M. McPherson and Military Historian Craig Symonds
Theatrical Trailer
TV Spots
Cast/Director Filmographies

Video Tracks:
Widescreen Anamorphic 1.78:1

Audio Tracks:
Dolby Digital Stereo 2.0 French
Dolby Digital 5.0 English

Subtitle Tracks:
French
English
CC: English

Directed By:
Ronald F. Maxwell

Written By:
Michael Shaara
Ronald F. Maxwell

Starring:
Cooper Huckabee
Andrew Prine
Jeff Daniels
Richard Jordan
Stephen Lang
Martin Sheen
Tom Berenger

Casting By:
Joy Todd

Soundtrack By:
Randy Edelman

Director of Photography:
Kees Van Oostrum

Editor:
Corky Ehlers

Costume Designer:
Michael T. Boyd

Production Designer:
Cary White

Producer:
Sandy Martin
Nick Lombardo
Robert Katz
Moctesuma Esparza

Distributor:
Warner Bros