Killer Nun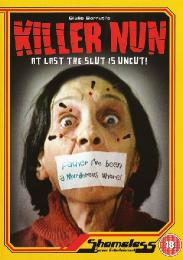 At Last The Slut Is Uncut!
Certificate: 18
Running Time: 83
Retail Price: £12.99
Release Date: 26/11/2007
Content Type: Movie
Synopsis:
If you ever watched La Dolce Vita wishing that Swedish sex siren Anita Ekberg would get out of the Trevi fountain, turn junkie, torture some pensioners and stalk innocent young nuns for kinky sex in a convent then Killer Nun is the film for you!

Originally banned in the UK, Shamless is proud to bring you Killer Nun uncut and ready to repent for the first time on UK DVD! One of the true greats of the nunsploitation genre this stunningly shot descent into the morphine-addled world of Sister Gertrude (Ekberg) is high on style and vivid with deliciously surreal murders.

Boasting a powerhouse performance from Ekberg and banned upon release in Italy this is one DVD not to take into the confessional box!
Special Features:
- Trailer
- Forthcoming Attractions
- The Nun Speaks Out! - Interview with Anita Ekberg

Video Tracks:
Anamorphic Widescreen 1.78:1

Audio Tracks:
Dolby Digital 2.0 Mono English

Directed By:
Giulio Berruti

Written By:
Giulio Berruti
Alberto Tarallo

Starring:
Anita Ekberg
Paola Morra
Alida Valli
Massimo Serato
Daniele Dublino
Lou Castel
Joe Dallesandro
Laura Nucci
Alice Gherardi
Lee De Barriault
Ileana Fraia
Antonietta Patriarca
Sofia Lusy
Nerina Montagnani
Franco Caracciolo
Maria Sofia Amendolea
Chicca Thomas
Manlio Pierotti
Brunello Chiodetti
Enzo Spitaleri
Lesly Thomas
Aldo De Franchi

Soundtrack By:
Alessandro Alessandroni

Director of Photography:
Antonio Maccoppi

Editor:
Mario Giacco

Costume Designer:
Alberto Tarallo

Producer:
Enzo Gallo

Distributor:
Shameless Screen Entertainment