20th Century Boys (2 Disc)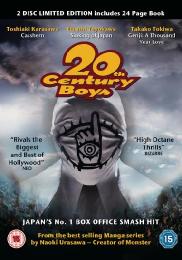 Friends say it's fine, friends say it's good...
Certificate: 15
Running Time: 136 mins
Retail Price: £19.99
Release Date: 2009
Content Type: Movie
Synopsis:
20th Century Boys seems to have been inspired in parts of the story by the works of Stephen King, containing allusions to It and The Stand. However, the story draws allusions mostly from rock and roll, with its title based on T. Rex's famous song, "20th Century Boy".

In 1969, Kenji, an elementary school kid and his friends built a secret base during their summer holidays. They fantasized that they had to fight villains who were out to conquer the world and wrote them in the "Book of Prophecies".

Years later in 1997, Kenji becomes a convenience store manager and leads a regular life after giving up his dreams to become a rock star. His boring life is suddenly turned upside down when his old classmate dies mysteriously and an entire family in the neighbourhood disappears. At the same time, a religious cult and its mysterious leader, "Friend" emerges and a strange chain of events duplicating exactly the events described in the "Book of Prophecies" follow. Is this the beginning of the end of the world? Who is 'Friend'?
Special Features:
24 Page "Book of Prophecies"
Japan Premiere Documentary
Paris Premiere Featurette
Cast Interviews
UK Trailer
Japanese Trailers

Video Tracks:
1.85:1 anamorphic widescreen

Audio Tracks:
Dolby Digital 5.1 Surround Japanese
Dolby Digital 2.0 Stereo Japanese

Subtitle Tracks:
English

Directed By:
Yukihiko Tsutsumi

Written By:
Yasushi Fukuda
Takashi Nagasaki
Naoki Urasawa
Yûsuke Watanabe

Starring:
Toshiaki Karasawa
Etsushi Toyokawa
Takako Tokiwa
Ichiya Anzai
Arata
Hidehiko Ishizuka
Teruyuki Kagawa
Renji Ishibashi
Hitomi Kuroki
Hiroyuki Miyasako
Katsuhisa Namase

Music From:
Ryomei Shirai

Director of Photography:
Satoru Karasawa

Editor:
Nobuyuki Ito

Producer:
Morio Amagi
Ryuuji Ichiyama
Nobuyuki Iinuma

Executive Producer:
Seiji Okuda

Distributor:
4Digital Asia