Flesh and Fury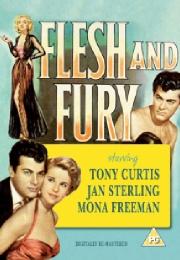 Certificate: PG
Running Time: 78
Retail Price: £15.99
Release Date: 30/03/2009
Content Type: Movie
Synopsis:
Flesh and Fury stars OSCAR® nominated Tony Curtis (Some Like it Hot, The Black Shield of Falworth) in one of his first leading roles alongside Golden Globe winner Jan Sterling (The High and the Mighty, Ace in the Hole) and Wallace Ford (Harvey, Spellbound).

Director Joseph Pevney (Man of a Thousand Faces) tells the story of deaf mute boxer Paul Callan (Curtis) who starts boxing for $25 purses when he catches the eye of Sonya Bartow (Sterling) a bloodthirsty, money-sucking blonde bombshell. With Sonya keen to push his career (and his winnings!) and with the help of retired fight manager Jack Pop Richardson (Ford), Callan seems all but unstoppable. For a time, Sonya has the upper hand with Paul, until a rival appears in the shape of upper-crust reporter Ann Hollis (Mona Freeman). Assigned to write an article on the hearing-impaired fighter she soon finds herself falling for him. With the women fighting for influence over Paul and ultimately his love, or money in Sonya's case, Paul quickly discovers that getting what he has always wanted doesn't necessarily lead to a happy ending.

Available for the first time in this digitally re-mastered form, Flesh and Fury shows its cast in the most flattering light: Tony Curtis is exceptional in one of his first starring roles, and Jan Sterling delivers possibly the finest performance of her career.
Special Features:
None

Video Tracks:
Full frame 1.37:1

Audio Tracks:
Dolby Digital 2.0 Mono English

Directed By:
Joseph Pevney

Written By:
William Alland
Bernard Gordon

Starring:
Tony Curtis
Jan Sterling
Mona Freeman
Wallace Ford
Connie Gilchrist
Katherine Locke
Harry Shannon
Louis Jean Heydt
Tom Powers
Nella Walker
Harry Guardino
Joe Gray
Harry Raven
Ted Stanhope

Soundtrack By:
Hans J. Salter

Director of Photography:
Irving Glassberg

Editor:
Virgil W. Vogel

Costume Designer:
Bill Thomas

Producer:
Leonard Goldstein

Distributor:
Eureka Video