Boiler Room (US)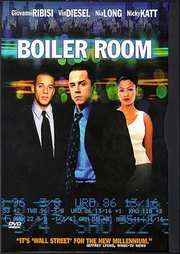 Anyone who says that money is the root of all evil, doesn`t have it
Certificate: R
Running Time: 120 mins
Retail Price: $24.98
Release Date:
Content Type: Movie
Synopsis:
Welcome to the infamous `Boiler Room` - where twenty-something millionaires are made overnight. Here, in the inner sanctum of a fly-by-night brokerage firm, hyper-aggressive, young stockjocks peddle to unsuspecting buyers over the phone, sometimes one step ahead of the law, and are rewarded with mansions, Ferraris and more luxury toys than they know what to do with. 19 year-old college drop-out Seth Davis (Giovanni Ribisi) has just joined the inner circle of the boiler room boys.

Seth wants to earn just two things in life: a million dollars and his perpetually disappointed father`s respect. But as Seth watches his colleagues get richer and his customers get poorer, he begins to wonder just what makes the money go round at the Boiler Room. His insatiable curiosity leads to a series of fatal choices and a Federal investigation that brings him to the brink of losing everything - not just his friends, his job and the millions promised him, but his father. The longer Seth stays in the Boiler Room, the more things begin to heat up.
Special Features:
Interactive Menus
Scene Access
Deleted Scenes
Alternate Ending
Commentary by Director Ben Younger, Producer Jennifer Todd and Actor Giovanni Ribisi
5.1 Isolated Score with Composer Commentary by The Angel
Original Theatrical Trailer
Cast and Crew Filmographies

DVD-ROM Features:
"Script-to-Screen" Read The Screenplay
Take the Quiz ("Are You Boiler Room Material?") and Watch the Film
Original Theatrical Web Site on the DVD…and more!!!

Video Tracks:
Widescreen Anamorphic 1.85:1

Audio Tracks:
Dolby Digital 5.1 English
Dolby Digital Surround 2.0 English

Subtitle Tracks:
English
CC: English

Directed By:
Ben Younger

Written By:
Ben Younger

Starring:
Ron Rifkin
Scott Caan
Nicky Katt
Nia Long
Vin Diesel
Giovanni Ribisi

Casting By:
John Papsidera

Soundtrack By:
The Angel

Director of Photography:
Enrique Chediak

Editor:
Chris Peppe

Costume Designer:
Julia Caston

Production Designer:
Anne Stuhler

Producer:
E. Bennett Walsh
Suzanne Todd
Jennifer Todd
Pamela Post

Executive Producer:
Claire Rudnick Polstein
Richard Brener

Distributor:
New Line Productions