Trinity Blood Box Set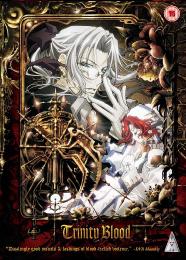 Can one man save the world when so many seek to destroy it?
Certificate: 15
Running Time: 870
Retail Price: £49.99
Release Date: 23/03/2009
Content Type: TV Series
Synopsis:
Based on a series of novels by the late Sunao Yoshida, and their subsequent manga adaptation, the thrilling neo-Gothic sci-fi adventure Trinity Blood now comes to DVD as a boxed set. Containing every single episode of the anime series recounting an epic battle between good and evil as bloodsucking vampires fight tooth and claw against emissaries of the Church with the earth as the prize.

It is five hundred years after Armageddon left the earth ravished, with the remaining human survivors preyed upon by predators. Desperate for even the slightest shred of hope in an uncertain future, the people turned to religion for solace. Rising from the ashes of a devastated world, the Catholic Church, although wrought with corruption, became the prime force in restoring civilization. But an enemy far worse than corruption lingered in the darkness…

Vampires, ravenous creatures that were thought to only exist in nightmares, now walk among men, waiting to feed on the blood of humanity. While many humans endeavour to seek a peaceful coexistence between the living and the undead, factions within the Church's Holy See and external terrorists threaten to destroy the delicate balance.

To ensure peace, individuals within the Church have secretly formed the ultra-tactical team, the AX. Under the command of Lady Caterina Sforza, Duchess of Milano, the AX is committed to protecting humankind and to punishing those who threaten the Vatican's interests. Ironically, the most powerful agent within the AX is not human. Father Abel Nightroad is a Crusnik, a shape-shifter able to feed on the blood of vampires. It is he who leads the fight against a legion of vampires known as the Rosen Kreuz, whose members will do whatever it takes to become earth's superior species. As a new countdown to destruction begins, it's up to the AX to save humanity and to resurrect the long-forgotten era of peace.
Special Features:
Tarot Card Gallery
Art Gallery
Textless Opening
Textless Credits
Trailers

Video Tracks:
Widescreen Anamorphic 1.78:1

Audio Tracks:
Dolby Digital 5.1 English
Dolby Digital Stereo 2.0 Japanese

Subtitle Tracks:
English

Directed By:
Tomohiro Hirata

Written By:
Sunao Yoshida
Yuuji Hosono
Atsuhiro Tomioka

Starring:
Hitomi Nabatame
Fumihiko Tachiki
Takako Honda
Shinya Kitade
Junichi Suwabe
Colleen Clinkenbeard
Chris Ayers
Christopher Sabat
Troy Baker
Hilary Haag

Producer:
Michiko Suzuki

Distributor:
MVM