Scar 3D
Introduction
Joan Burrows (Angela Bettis) has returned to her hometown of Ovid, Colorado to stay with her brother in the hope of seeing her niece Olympia (Kirby Bliss Blanton) crowned homecoming queen. Joan is returning to the scene of a traumatic ordeal sixteen years ago when she and a friend were captured by the town's undertaker, Ernie Bishop (Ben Cotton) and subjected to a warped game where each is tortured until they ask him to kill the other.
Still bearing the scars of that day, Joan suspects that Bishop may not be dead, even though she thought she killed him herself, as high school students begin disappearing and turning up dead and horrendously disfigured. When Olympia goes missing, Joan must confront her deepest fears and try and find her before it's too late.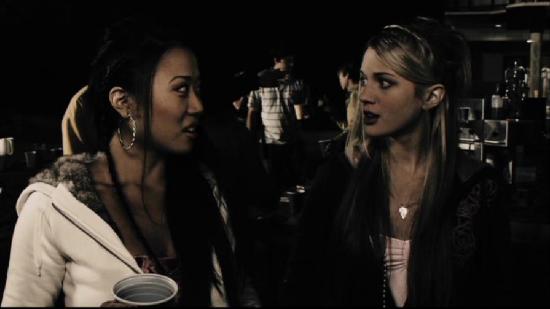 Video
The disc contains two versions of the film: 2D and 3D, with the latter available for a limited time only.
I found that both versions have the same problems: the colours are too muted and at times far too dark to make anything out; the film has obviously been constructed with 3D in mind so there are some scenes where the action is distinctly layered (foreground, background and in between) and some objects are placed close to the camera for 'effect'. That said, this isn't one of those 'pointy' films like
Beowulf
where objects are aimed and fired at the camera for ultimate 3D effect, instead that 3D is used to create depth.
I noticed that, in both versions, there was a problem with blurring as the director, perhaps in his willingness to make a 3D film, forgot to focus on just one object, choosing instead to try and get everything in focus and failing.
The 3D version needs red and blue glasses (two pairs are included) and these are the uncomfortable cardboard variety with hooks to go around the ears in a 'one size fits all', though they didn't fit me or my brother properly. In addition, the 3D hurt my eyes, something which has never happened before, and when my brother sampled it, he also got eyestrain.
Audio
This is the sort of film that needs a punchy soundtrack, full of 'jumps', to go with the visual spectacle but there isn't one. Even the Dolby Digital 5.1 track (there is a stereo option) seemed weak and lacking in the intensity that you usually find in the more gore soaked horror films.
The English HoH subtitles, available in both versions, are easy to read and are free of spelling and grammatical errors.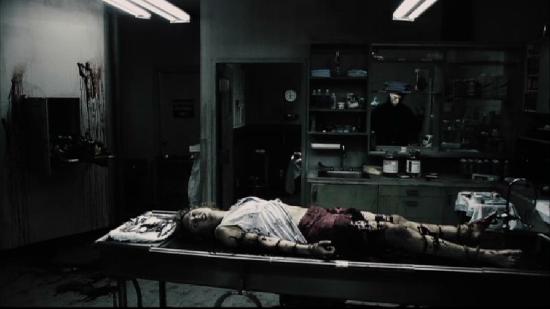 Conclusion
The central premise of the film, the killer's 'game', that someone will kill someone they know and love if tortured enough was dealt with, and done better, in
WΔZ
. This is told with a non-linear narrative, so you see Joan's ordeal in bits throughout the film and, for a while, I wasn't sure which was in the present day - Joan was dressed very much like a modern day high school student and there wasn't much to say that those scenes were flashbacks.
I'm not sure what
Scar
wanted to be as it's not an out-and-out 'torture porn' film with gratuitous violence and gore like the
Hostel
films, it is not a teen slasher nor is it as intelligent as
WΔZ
in terms of a character study or examination of human behaviour. It is also very predictable and I guessed the killer's identity really early on.
If 3D is ever to break the home entertainment market, it needs better films than this with better 3D.
Scar
is competently directed, though badly shot, and only Angela Bettis comes out with any credit to her performance.
Scar
isn't a big enough title to get casual DVD buyers to splash out and the paucity of the package, without a single extra feature and the 3D selling point only available for a limited time might just leave you with a forgettable 2D film.
I would recommend this only for rental and only then if it comes with the requisite glasses. Even then, the two people who tried it in my house developed eye pain so that's something to bear in mind.