FLCL: Volumes 1-3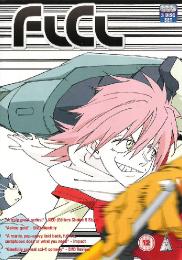 The Collection
Certificate: 12
Running Time: 180
Retail Price: £29.99
Release Date: 02/02/2009
Content Type: TV Series
Synopsis:
Twelve-year-old Naota's tranquil if somewhat boring existence essentially revolves around going to school and spending time at home with his lecherous father and grandfather. And things have been worse since his older brother, Tasuku, left to play pro baseball in America causing in his girlfriend, Mamimi, to focus her inappropriate and unwanted attentions on the younger Naota.

But events take an unpredictably dramatic turn with the arrival of Haruhara Haruko, an out-of-this-world girl who literally blasts into Naota's by running him down on her scooter and clobbering him with her guitar. The resulting head injury is not so much a lump as a phallic horn from which robots begin to erupt at the most inopportune moments! As if that wasn't enough, Naota later discovers that his father has employed Haruko as a live-in maid with one of Naota's head-spawned robots as her assistant.

It's not long before Naota discovers the reason for Haruko's earthly visit and, naturally, it's just as bizarre as recent events have led him to expect.

Unlike any other anime you may have seen before, FLCL is virtually impossible to categorize, combining, as it does, elements of comedy, drama, science fiction, romance, philosophy, poetry and numerous knowing reference to contemporary pop culture. At its core, though, FLCL is a mesmerising, radically visualised coming-of-age saga for the 21st century.
Special Features:
• Director's Commentary (with English Subtitles)
• The Pillows - Film Clip
• Character Sketches
• Japanese Promo
• Japanese Closing
• Poster Art Gallery
• Art Gallery
• Textless Closing
• Cast Profiles
• Australian Trailer
• Trailers

Video Tracks:
Standard 1.33:1

Audio Tracks:
Dolby Digital 2.0 Stereo English
Dolby Digital 2.0 Stereo Japanese

Subtitle Tracks:
English

Directed By:
Kazuya Tsurumaki

Written By:
Yoji Enokido

Starring:
Jun Mizuki
Mayumi Shintani
Izumi Kasagi
Steve Blum
Chiemi Chiba
Melissa Fahn
Yukari Fukui
Barbara Goodson
Hiroshi Ito
Mika Itô
R. Martin Klein
Steve Kramer
Dave Mallow
Joe Martin
Suzuki Matsuo
Chris McDougall
Akira Miyashima
Tara Murphy
Kôichi Ôkura
Ryan Ragland
Luis Reyes
Stephanie Sheh
Jessica Straus
Kazuhito Suzuki
Mark Takeuchi
Rick Tetzlaff
L. Villa
Kari Wahlgren
Maggie Weidner
Yuriko Yamaguchi
Shizuki Yamashita
Agnes Yoshida

Soundtrack By:
Shinkichi Mitsumune
The Pillows

Music From:
The Pillows

Producer:
Sato Hiroki
Nishizawa Masatomo
Stephanie Sheh
Shizuki Yamashita

Executive Producer:
Toshimichi Otsuki
Maki Terashima-Furuta
Hideki Uchino

Distributor:
MVM Entertainment