Triumph Of The Will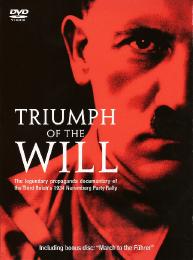 The legendary propoganda documentary of the Third Reich's 1934 Nuremberg Rally
Certificate: Exempt
Running Time: 112
Retail Price: £14.99
Release Date: 17/03/2008
Content Type: Movie
Synopsis:
"Triumph of the Will", also known as "Triumph des Willens", is the legendary propaganda documentary of the Third Reich's 1934 Nuremberg Party Rally. Commissioned by Hitler in 1934 and directed by Leni Riefenstahl, this documentary covers the events of the Sixth Nuremberg Party Congress. The original intention was to document the early days of the NSDAP, so future generations could look back and see how the Third Reich began. In reality, Triumph of the Will shows historians how the Nazi state drew in the masses through propaganda and also how Adolf Hitler had a unique and terrifying ability to entice crowds to his beliefs by the very power of his words.

"Triumph of the Will" was released in 1935 and rapidly became one of the better-known examples of propaganda in film history. Riefenstahl's techniques, such as moving cameras, the use of telephoto lenses to create a distorted perspective, aerial photography, and revolutionary approach to the use of music and cinematography, have earned "Triumph of the Will" recognition as one of the greatest films in history. Riefenstahl won several awards, not only in Germany but also in the United States, France, Sweden, and other countries. The film was popular in the Third Reich and elsewhere, and has continued to influence movies, documentaries, and commercials to this day, even as it raises the question over the dividing line between art and morality.

Featuring a cast of thousands, including Adolf Hitler, Himmler, Goebbels, Hess, Goering and other top party officials, this film perhaps more than any other demonstrates the frightening reality that was the Nazi Party and the dangers that the future held for the rest of Europe.
Special Features:
March to the Führer

Video Tracks:
Standard 1.33:1

Audio Tracks:
German 1.0 Mono

Subtitle Tracks:
English

Directed By:
Leni Riefenstahl

Written By:
Leni Riefenstahl

Starring:
Adolf Hitler
Rudolh Hess
Herman Göring
Josef Goebbels
Heinrich Himmler
Sepp Dietrich

Soundtrack By:
Herbert Windt

Director of Photography:
Leni Riefenstahl

Editor:
Leni Riefenstahl

Production Designer:
Albert Speer

Visual Effects:
Ernst Kunstmann

Producer:
Leni Riefenstahl

Distributor:
Demand DVD