Jim Jarmusch Collection Vol.2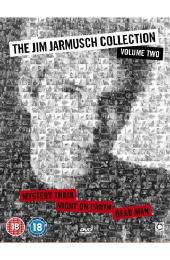 Contains: Dead Man / Mystery Train / Night on Earth
Certificate: 18
Running Time: 348 minutes
Retail Price: £34.99
Release Date: o5/01/09
Content Type: TV Series
Synopsis:
Mystery Train: Named after an Elvis Presley hit, Mystery Train interweaves three engrossing stories, all centering around the Presley legend and his beloved hometown of Memphis. As the character's paths collide -- through laughter, fear and fate -- you can practically feel the presence of the King himself in every scene and his legacy impressed on a generation of equally lost souls in this brilliantly structured comedy.

Night On Earth: Five cities. Five taxicabs. A multitude of strangers in the night. Jim Jarmusch assembled an extraordinary international cast of actors (including Gena Rowlands, Winona Ryder, Armin Mueller-Stahl, Beatrice Dalle, and Roberto Benigni) for this hilarious quintet of tales of urban displacement and existential angst, spanning time zones, continents, and languages. Jarmusch's lovingly askew view of humanity from the passenger seat makes for one his most charming and beloved films.

Dead Man: William Blake (Johnny Depp) set out on an exciting journey to start his life over in a new town with a new job. He never could have prepared himself for what was to come. Through a mysterious chain of events, he becomes involved in a love triangle that ends in a double murder--with him as the suspect. Alone and scared, he tries to escape, but soon discovers that he is being hunted down by men who have been paid to find and kill him, and befriends a Native American loner, 'Nobody' (Gary Farmer), who believes that he is the English poet 'William Blake', teaches him to face the dangers that follow a "dead man."
Special Features:
Interview Features on Dead Man and Night on Earth.
Trailers.

Directed By:
Jim Jarmusch

Written By:
Jim Jarmusch