Titan A.E. (US)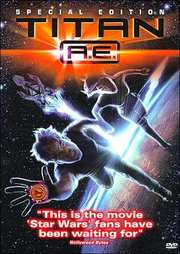 "This is the movie `Star Wars` fans have been waiting for" - Hollywood Bytes
Certificate: PG
Running Time: 95 mins
Retail Price: $26.98
Release Date:
Content Type: Movie
Synopsis:
A reluctant young hero holds the key to the future of mankind in the palm of his hand in this eye-popping, sci-fi adventure.

It`s the year 3028 and the Drej, a vicious alien race, have destroyed Earth. Fifteen years later a young man named Cale learns he possesses a genetically encoded map to the Titan, a spaceship that holds the secret to the salvation of the human race. With the Drej in hot pursuit, Cale blasts off with the new crew of the Valkyrie in an attempt to find the Titan before the Drej destroy it, along with mankind`s last chance for a home of their own.

Featuring an all-star voice cast that includes Matt Damon and Drew Barrymore and an edgy, out-of-this-world soundtrack, Titan A.E. is an intergalactic thrill ride for a new generation.
Special Features:
Interactive Menus
Scene Access
Director`s Commentary
"The Quest For TITAN" Featurette
Deleted Scenes
Lit Music Video: "Over My Head"
Exlcusive DVD-ROM Game Link
Still Gallery
Trailers & TV Spots
THX Certified

Video Tracks:
Widescreen Anamorphic 2.35:1

Audio Tracks:
Dolby Digital 5.1 English
Dolby Digital Surround 2.0 English
DTS 5.1 English
Dolby Digital Surround 2.0 French

Subtitle Tracks:
English
Spanish
CC: English

Directed By:
Art Vitello
Gary Goldman
Don Bluth

Written By:
Joss Whedon
John August
Ben Edlund
Randall McCormick
Hans Bauer

Starring:
Janeane Garofalo
John Leguizamo
Drew Barrymore
Bill Pullman
Matt Damon

Casting By:
Marion Levine

Soundtrack By:
Graeme Revell

Editor:
Fiona Trayler
Bob Bender

Costume Designer:
Kym Barrett

Production Designer:
Philip A. Cruden

Producer:
David Kirschner
Gary Goldman
Don Bluth
Hans Bauer

Executive Producer:
Paul Gertz

Distributor:
Twentieth Century Fox