Death Note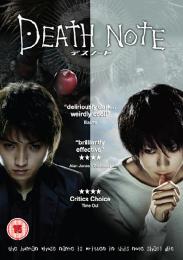 the human whose name is written in this note shall die
Certificate: 15
Running Time: 121 mins
Retail Price: £19.99
Release Date: 2008
Content Type: Movie
Synopsis:
Death Note is a live action Japanese film which is based on the hit supernatural action mystery manga comic of the same name.

Death Note follows the manga story of Light Yagami, a brilliant but bored high student with great prospects. Life changes dramatically for Light when he finds the Death Note, a notebook dropped by a rogue Shinigami death god named Ryuk...

Any human whose name is written in the notebook dies. Light sees an opportunity to rid the world of evil using the powers granted in the Death Note. Police call in the help of the famous, but unconventional detective L when criminals begin to mysteriously die. So begins the battle of wits to see who really is good or evil.
Special Features:
24 Page book!
Theatrical Trailer
Making Of Death Note
Production diary Video
Death Note Press Conference
Original Japanese Trailers
Image Gallery

Related Websites:
http://www.4digitalmedia.com/

Video Tracks:
1.85:1 anamorphic widescreen

Audio Tracks:
Dolby Digital Surround 5.1 Japanese
Dolby Digital Stereo 2.0 Japanese

Subtitle Tracks:
English

Directed By:
Shusuke Kaneko

Written By:
Tsugumi Ôba
Takeshi Obata
Tetsuya Oishi

Starring:
Tatsuya Fujiwara
Kenichi Matsuyama
Asaka Seto
Shigeki Hosokawa
Erika Toda
Shunji Fujimura
Takeshi Kaga
Yu Kashii
Shido Nakamura

Music From:
Kenji Kawai
Red Hot Chili Peppers

Director of Photography:
Hiroshi Takase

Editor:
Yousuke Yafune


Producer:
Toyoharu Fukuda
Takahiro Kobashi
Takahiro Sato

Executive Producer:
Seiji Okuda

Distributor:
4Digital Media