John Hughes' High School Year Book Collection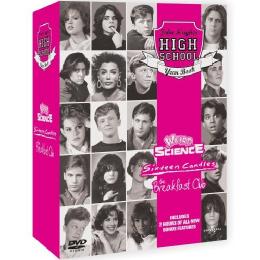 Three 1980s cult classics in 1 box set
Certificate: 15
Running Time:
Retail Price:
Release Date:
Content Type: Movie
Synopsis:
THE BREAKFAST CLUB: A cult classic starring Molly Ringwald, featuring five teenagers, all from different high school cliques, in dreaded weekend detention. Sexual attraction, goofing around and deep conversation formulate one of Hughes' best creations!

WEIRD SCIENCE: Featuring two nerdy teenagers, Gary and Wyatt, who create the perfect woman, on their computer. After a bizarre electrical storm sexy Lisa comes to life, transforming the teenagers overnight from super geeks to super cool.

SIXTEEN CANDLES: Samantha's (Molly Ringwald) life appears to be going rapidly downhill. She has a massive crush on the hottest boy at school, whilst the geekiest guy has a massive crush on her and her sixteenth birthday seems to have been entirely forgotten! Hilarious embarrassments overwhelm Samantha in this coming-of-age film.
Special Features:
Breakfast Club bonus disc: an intriguing multi-part documentary reflecting the cultural impact of The Breakfast Club plus a look back at the Brat Pack legacy complete with cast interviews.

Box Set bonus disc: multi-part documentaries on Weird Science and Sixteen Candles reflecting on the films themselves and the culture of the time.