Witchblade: Volume 5 (UK)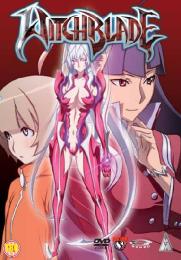 To Kill. To Live. To Love. To Die
Certificate: 15
Running Time: 95 mins
Retail Price: £15.99
Release Date: 2008
Content Type: TV Series
Synopsis:
Sought by the greed of men since the dawn of humankind, but only bestowed upon the woman whose fate it forever scars - the Witchblade. Is it the righteous sword of God, or the hand of the Devil himself? Now a new bearer has been chosen, and she must discover the answers for herself. As she stands on the brink of destiny, she is forced to seek the balance between ecstasy and ruin...

The brutal, bloodied path of the Witchblade and the calculated cruelty of corporate cutthroat make for desperate bedfellows, with sides being chosen even as the final battle approaches. Poor Masane, current bearer of the blade, is the unwilling ground zero for the swelling chaos that approaches, and those dearest to the destined are in the greatest danger of all.

As leaders rise and leaders fall, alliances shift and tumble; the lust for complete control of history's weapon, for the power promised, surges and pulses through the veins of all that have been touched by the Witchblade.
Special Features:
Japanese Cast Interview - Voice of Hiroki Segawa
Japanese Cast Interview - Voice Of Tatswoki Furumizu
The Witchblade Forged - Part III
Textless Songs
Trailers

Video Tracks:
Widescreen Anamorphic 1.78:1

Audio Tracks:
Dolby Digital 5.1 English
Dolby Digital Stereo 2.0 Japanese

Subtitle Tracks:
English

Directed By:
Yoshimitsu Ôhashi

Written By:
Yasuko Kobayashi

Starring:
Mie Sonozaki
Massaya Matsuzake Ono
Mamiko Noto
Rikiya Koyama
Akemi Kanda
Shizuka Ito

Editor:
Kiyoshi Hirose

Distributor:
MVM