Blacula & Scream Blacula Scream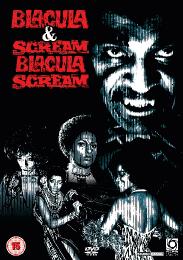 He's black! He's beautiful! He's Blacula!
Certificate: 15
Running Time: 190
Retail Price: £15.99
Release Date: 22/09/2008
Content Type: Movie
Synopsis:
BLACULA (1972)

Once upon a time, Dracula made a vampire of an African Prince named Mamuwalde (William Marshall) when the Prince and his wife dared to try and persuade the Count to sign a petition calling for the abolishment of slavery. Seperated from his beloved wife Luva, Blacula was cursed to spend eternity trapped in a coffin driven crazy by an unquenchable thirst for blood. That is until two gay decorators unwittingly unearth said coffin and transport it back to the U.S., unleashing Blacula on the modern world and becoming his first victims. As police pathologist Gordon Thomas (Thalmus Rasulala) and homicide detective Jack Peters (Gordon Pinsent) begin to investigate the mysterious deaths, Mamuwalde discovers the reincarnation of his lost Luva in the form of one of the decorator's friends, Tina (Vonetta McGee). She feels an immediately overpowering attraction to him and despite the policemen's hunt to save her, it seems that the two cursed lovers might finally be reunited...


SCREAM BLACULA, SCREAM (1973)

Willis (Richard Lawson) is informed by Voodoo priestess Lisa (Pam Grier) that he will not in fact automatically assume the position of cult leader following the recent death of his mother, the previous incumbent. Angry and seeking revenge, he enlists the help of another disgruntled cult member and receives a bag of human bones with written incantations on. Performing a voodoo ceremony on the remains, he unwittingly brings back to life the legendary vampire Blacula (William Marshall), who is less than happy to have been awoken from his eternal rest. Embarking on a murderous and debauched spree, Blacula immediately intuits that Lisa and her voodoo powers can help him return to his grave. However, will their efforts be thwarted by of Lisa's jealous fiance Justin (Don Mitchell) and the attentions of the local police?
Special Features:
Trailers

Video Tracks:
Anamorphic 1.85:1

Audio Tracks:
Dolby Digital 2.0 Mono English

Directed By:
William Crain
Bob Kelljan

Starring:
William Marshall
Vonetta McGee
Denise Nicholas
Thalmus Rasulala
Gordon Pinsent
Charles Macaulay
Don Mitchell
Pam Grier
Michael Conrad
Richard Lawson
Lynne Moody
Janee Michelle
Barbara Rhoades
Bernie Hamilton
Arnold Williams
Van Kirksey

Distributor:
Optimum Home Entertainment