Killer Klowns From Outer Space
Introduction
Whilst drinking champagne at the 'Top of the World' make-out point, Mike and Debbie see a shooting star land nearby. Debbie wants to go and see it, but Mike isn't so keen. Not wanting to annoy his girlfriend, he drives her there and, bizarrely, they find a Circus Big-Top, which is actually a spaceship containing dead humans cocooned in candy-floss.
They are chased out by one of the Killer Klowns wielding a popcorn gun and they flee to police station. By now the town is full of these crazy alien clowns and the senior policeman around thinks that the calls are pranks. The other cop, Dave, agrees to help by taking Debbie home and driving Mike to see the tent. All they find is a smoking hole in the ground, but everyone at the 'Top of the World' is dead and the cars are covered in candy-floss.
Written, produced and directed by the Chiodo brothers as their debut film in 1988,
Killer Klowns from Outer Space
has become a cult favourite, celebrating its 20th anniversary.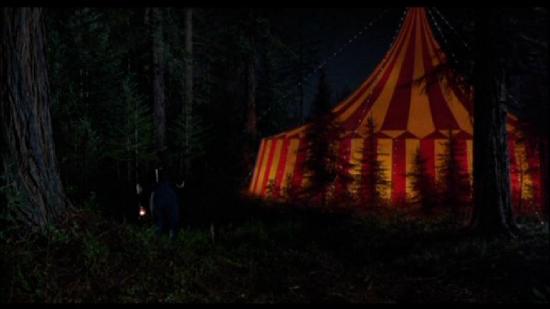 Video
The picture is very good, with no evident problems, showing both dark and bright scenes equally well. The puppets, which probably didn't look amazing twenty years ago, show their age but, for me, that's part of the charm.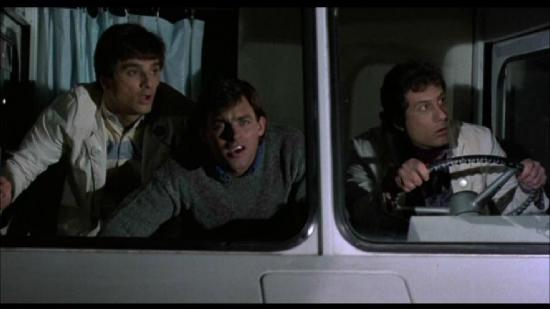 Audio
The Dolby Digital 2.0 soundtrack is a little problematic, with sounds that should be from the centre channel appearing from the side speakers. Fortunately this doesn't happen too often, but it's annoying when it does.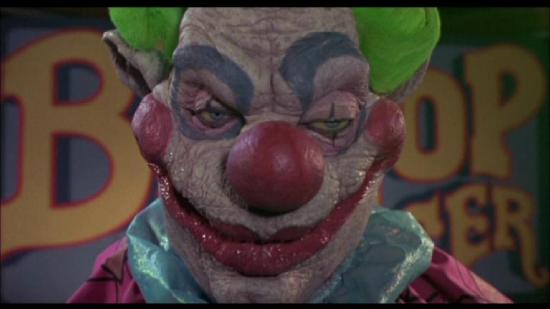 Conclusion
I've never understood the appeal of clowns, I find them creepy and weird - definitely not the sort of entertainment for young children - so it's no wonder that they have spawned great horror characters like Pennywise in
It
and the Klowns here.
Everyone must have their own cult films that they love, yet no-one can understand why, and this is one of mine.
Killer Klowns from Outer Space
is one of those films I stumbled upon by accident and instantly fell in love with. The acting, writing and direction leave a lot to be desired, as do the effects, editing and soundtrack, but it's a film that's almost impossible to dislike.
For its 20th anniversary, you would expect a special edition, yet Optimum have released a vanilla disc without so much as subtitles, reflected in the rating! I own the R1 release with a commentary, subtitles and other extra material and if you like the film, that is the one to buy. Treat this as a try-before-you-buy, give it a rental and see what you think. If you like it, go for the Region 1 version, but I can perfectly understand if you think it's rubbish and never want to see it again!