Romulus Returns to Siam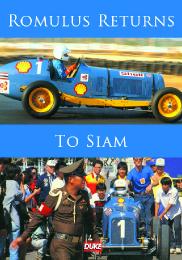 The Story of a Famous E.R.A.
Certificate: E
Running Time: 60
Retail Price: £12.99
Release Date: 14/07/2008
Content Type: Movie
Synopsis:
Prince Bira was one of motorsport's great characters, a Siamese prince who took on - and beat - the best drivers Europe had to offer.
This exceptional film is both a tribute to and celebration of Bira and the White Mouse Racing team he created with his cousin Prince Chula. It skilfully combines rare family archive footage with modern film to create an unmissable documentary.
Courtesy of Prince Chula's daughter Narisa Chakrabongse, family film is used to tell the story of how Bira and a blue and yellow E.R.A. named Romulus changed the face of racing in the 1930s.
And it was also thanks to Narisa that the one unfulfilled dream of Bira and Chula was finally achieved - letting Romulus race in front of its home fans.
In 1939 it was planned to run a Bangkok Grand Prix, but the outbreak of World War II meant that ambition was halted. Fifty years later, Narisa managed to make the dream reality.
She gathered 15 historic racing cars, including Romulus and five other ex-Bira cars, for a two-part event, and the cameras were there to record this momentous occasion.
Joining the Bira cars were Bugatti, MG, Alfa Romeo and BMW, with classic vehicles travelling from the UK, Australia and America.
At last, Romulus could run in front of its home fans, taking to the Bangkok streets which had been earmarked as the Grand Prix route five decades earlier. There was also a chance to see these wonderful machines at speed on the modern Pattaya International Circuit.
Romulus Returns to Siam lets you relive not only the great heritage of this evocative E.R.A., but also its glorious return to racing.
This is 60 glorious minutes of motor racing history, including rare pre-war colour and black and white footage and some delightful surprises.
Special Features:
None.

Video Tracks:
Standard 1.33:1

Audio Tracks:
Dolby Digital 2.0 Stereo