Skunk Fu! The Art Of The Touch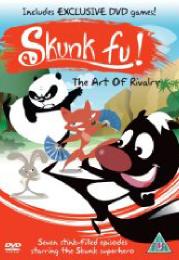 Only one animal can stave off the Ninja Monkey's and save his friends...
Certificate: U
Running Time: 84 minutes
Retail Price: £14.99
Release Date: 30/06/2008
Content Type: Movie
Synopsis:
Dragon and his Ninja Monkeys will stop at nothing to destroy the Valley Animals.

But wise old Master Panda believes that the answer to their prayers rests in the tiny paws (and smelly butt) of his young student - Skunk!

Panda trains Skunk in the art of Kung Fu. Besides Dragon, Skunk's biggest enemy is his own impatience; he'd rather go on adventures than do boring old training.

Only time will tell if he's ready...
Special Features:
DVD Games

Directed By:
Aidan Harte

Written By:
Thomas Krajewski

Starring:
Jules Dejongh
Paul Tylack
Tony Acworth
Rod Goodall
Paul McLoone
Patricia Rodriguez

Soundtrack By:
Chris Bemand

Producer:
Jordan Gaucher

Executive Producer:
Paul Cummins
Tom van Waveren
Paul Young