Initial D: Volume 1 (3 discs)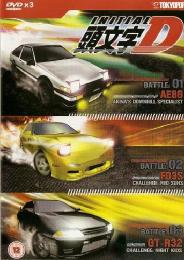 Catch it, if you can.
Certificate: 12
Running Time: 225 + 225 mins
Retail Price: £12.99
Release Date: 2008
Content Type: TV Series
Synopsis:
With over 30 million manga comics sold worldwide, and support across every video game platform, the Initial D drift-racing franchise is a truly global phenomenon. Previously unreleased in the UK, this is the original anime series that provided the inspiration for the live-action movie.

Volume 1 of 5 features 9 episodes at over 3 hours running time. Includes both English language version and original Japanese version with sub-titles.

When a 17 year-old delivery boy named Tak who drives an 'Eight-Six', a street term for the Toyota Trueno AE86, begins to casually get involved with the street racing scene, he unexpectedly goes up against a street racing legend in one of his first races. Soon, Tak has acquired a reputation and finds that other races are lining up for the chance to take on Tak and his famous 'Eight-Six of Mount Akina'.
Special Features:


Video Tracks:
Standard 1.33:1

Audio Tracks:
Dolby Digital 5.1 English
Dolby Digital 5.1 Japanese

Subtitle Tracks:
English

Directed By:
Masami Hata
Noboru Mitsusawa

Written By:
Shuichi Shigeno
Nobuaki Kishima
Hiroshi Toda

Starring:
Steven Jay Blum
Shinichirô Miki
Unshô Ishizuka
Mitsuo Iwata
Takehito Koyasu
Tomokazu Seki
Ayako Kawasumi
Kathryn Cressida
Lex Lang
Kerrigan Mahan
Robbie Rist
Dave Wittenberg

Music From:
Benjamin Chan
Stuart J. Levy

Executive Producer:
Stuart J. Levy

Distributor:
VDI Entertainment