Voltron: Defender Of The Universe: Collection 1 - Blue Lion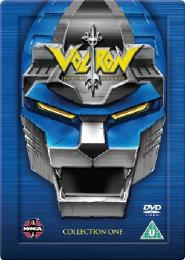 Limited Edition Steelbook
Certificate: U
Running Time: 348 mins
Retail Price: £29.99
Release Date: 2008
Content Type: TV Series
Synopsis:
Painstaking care has been taken to bring Voltron up to modern video standards. Unlike many of the earlier classic 80's cartoon releases, Voltron required a different level of restoration work. The show was pieced together from two different Japanese series. Normally, the video cleaning process involves going back to the original prints, but in this case they simply didn't exist. Starting with new film transfers from Hyaku Juu Oh Golion and Kikô Kantai Dairugger XV, we rebuilt Voltron from the ground up! All of the original footage was color-corrected and given a full revival to remove the imperfections on film. Once the pieces were in place it was time to edit...edit...and edit some more. Every episode now had to be re-created using the originals as guides. So, frame by frame and scene by scene, Voltron was reborn into existence once more. The video crew of AnimeWorks has taken the greatest of care to revive this classic series that introduced so many of us to Anime.

From the far reaches of the galaxy comes the legend of the Lion Force, five great weapons that connect to form Voltron, a mighty robot dedicated to defending the universe. Meanwhile, on planet Earth a Galaxy Alliance maintains peace amongst the planets, but a horrible menace threatens that peace and Voltron is needed once again. A super force of space explorers must venture deep into space and resurrect Voltron, Defender of the Universe.

This fantastic Limited Edition, 3-disc, embossed Steelbook; contains the first 15 episodes and is a must for fans old and new.
Special Features:
Original Trailer
Production Sketches
Archive Footage
Merchandise Trailer

Video Tracks:
Standard 1.33:1

Audio Tracks:
Dolby Digital Stereo 2.0 English

Directed By:
Franklin Cofod

Starring:
Jack Angel
Michael Bell
Peter Cullen
Kevin Michael Richardson
Neil Ross
B.J. Ward
Lennie Weinrib
Tress MacNeille

Music From:
John Petersen
Dale Schacker

Producer:
Franklin Cofod

Executive Producer:
Peter Keefe

Distributor:
Manga Entertainment